Natural History Museum Replaces Dippy With A Giant Blue Whale
13 July 2017, 13:03
When you walk through the front door of the Natural History Museum in London you'll no longer be greeted by "Dippy" the Diplodocus dinosaur.
Instead, a huge blue whale skeleton suspended from the ceiling has taken its place.
The 126-year-old skeleton has been unveiled today (Thursday) as its predecessor "Dippy" prepares to head out on a UK tour.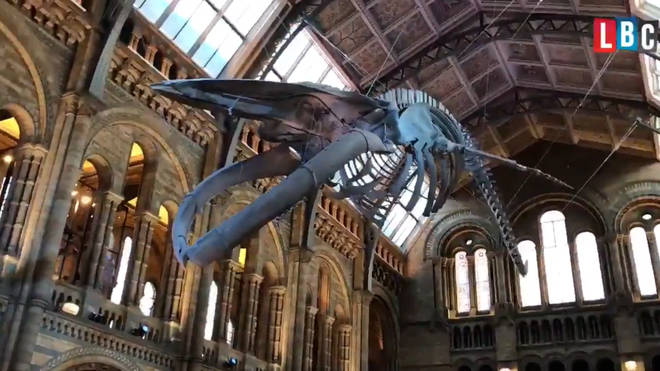 Measuring a whopping 25.2 metres, visitors to the famous hall will be able to walk underneath the real bones of the world's largest mammal.
Blue whales were hunted to the brink of extinction by humans, but were also the first species we decided to save too.
The mammal, which has been nicknamed "Hope", originally went on display in 1934 but has been moved as part of a revamp at the south Kensington museum.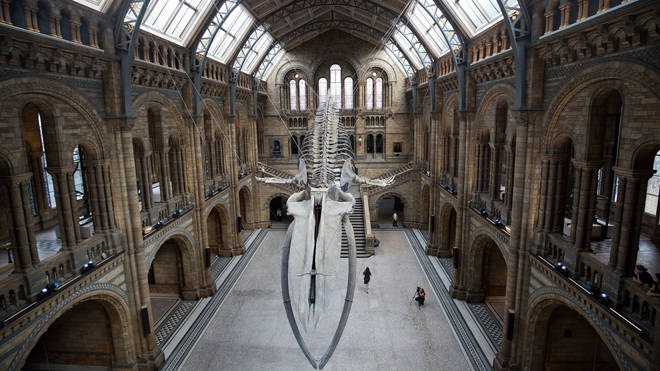 It will be surrounded by other some rather amazing specimens too, including a 4.5bn year-old meteorite and a Mantellisaurus skeleton.
The new exhibition officially opens to the public on Friday.