Notting Hill Carnival: Moment Fight Breaks Out Between Group Of Women
28 August 2018, 13:21
This is the moment a fight broke out between a group of women at Notting Hill Carnival as police revealed more then 370 people were arrested at the two-day festival.
One man was stabbed and 30 police officers were hurt at the event which took place across the bank holiday weekend.
Video filmed on Monday shows women throwing punches on top of each other as huge crowds look on.
In total, 373 people were detained by officers across the event.
Of those, 156 were arrested on drugs offences, 69 on suspicion of possession of an offensive weapon and nine on suspicion of sexual offences.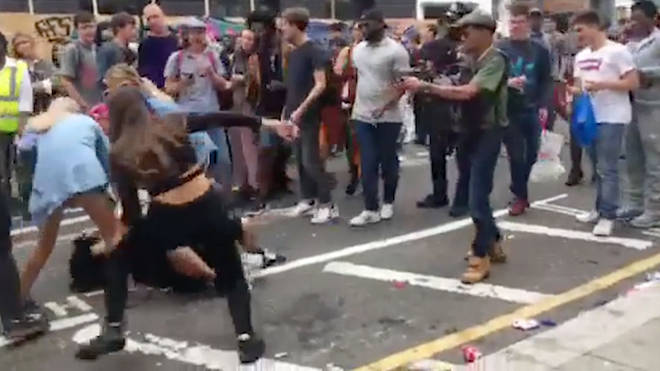 Among the items seized were knives, a metal pole and a Taser.
Last year some 313 arrests were carried out.
Notting Hill Carnival Gold Commander Dave Musker said: "We would like to thank all those who took to the streets to celebrate everything that the carnival stands for, in a kind and considerate manner.
"However Monday night was marred by the news of a non-life-threatening stabbing at around 8.10pm in Ladbroke Grove. Thankfully this was the only incident of this nature throughout the whole weekend."