M&S Christmas ad star Tan France defends 'insensitive' use of 'Palestinian flag' colours after backlash
2 November 2023, 18:25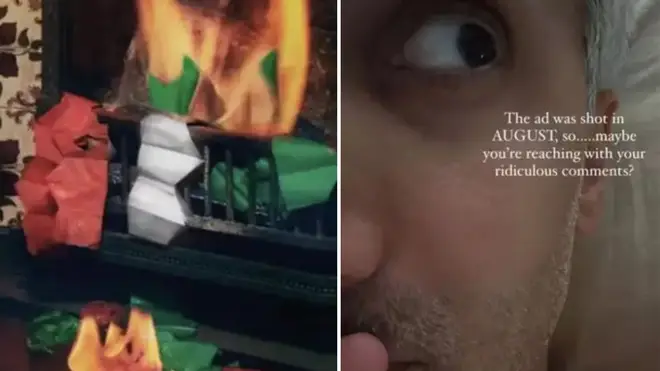 M&S Christmas advert star Tan France has defended the "insensitive" use of Palestinian flag colours in an outtake after it was pulled following a backlash.
The image, an outtake from its Christmas advert, was posted on the official M&S Instagram account.
It showed red, silver and green paper hats being thrown into a fireplace, with the caption: "This Christmas, do what you love... like saying no to paper hats."
Marks and Spencer apologised for the controversial post, saying that "while the intent was to playfully show that some people just don't enjoy wearing paper Christmas hats over the festive season" it had removed it after facing criticism.
But France was quick to defend the clip, saying in an Instagram story: "The ad was shot in AUGUST, so..... maybe you're reaching with your ridiculous comments?"
Read more: M&S apologises over Instagram post after burning green and red Christmas hats compared to Palestinian flag
Read more: Marks and Spencer launch their star filled 2023 Christmas Advert
The image saw a huge backlash online, with one person tweeting: "I don't care if this Christmas campaign was made back in August, that's no excuse. The M&S marketing team should have noticed it was insensitive as it looks like the Palestinian flag. The colours are even in order of the flag."
A second person said: "This absolutely ridiculously and joke of an advert! So insensitive. F you Marks and Spencer #freepalestine"
A third person tweeted: "These adverts and images go through enormous levels of scrutiny before reaching public view.
"It is simply not credible that this was not caught earlier and you really have to be better than this."
But others were quick to join France in defending the image, saying: "M&S have done nothing wrong [it's] about Christmas. Shame on the woke society. Time we ignored them."
Someone else added: "Get a grip people! M&S you have done nothing wrong. The ad was not in bad taste at all."