One person killed after Bedford gas explosion which saw people 'jumping from windows'
4 July 2022, 11:37 | Updated: 5 July 2022, 11:40
At least one person has died after a huge gas explosion at a block of flats in Bedford, which saw residents "jumping from windows".
Three people were taken to hospital after the "major incident" in Redwood Grove, Bedford, on Monday morning.
One person was airlifted to Addenbrooke's Hospital with leg injuries, while two others, one of whom was a firefighter, were conveyed to Bedford Hospital South Wing with smoke inhalation.
There is a possibility there'll be more fatalities confirmed, Chief superintendent John Murphy from Bedfordshire Police said.
"Very sadly we know that at least one person has passed away in the explosion today," Mr Murphy explained.
Read more: Horror Bedford explosion may have been sparked by camping stove as more bodies feared
Read more: Harry Dunn's 'killer' fled as Pincher 'distracted' by misconduct probe, Labour MP suggests
"There is a possibility that there will be more fatalities discovered in the coming days as we continue to search through the scene and a number of people, as my colleague from the fire services has identified, were injured as well today."
He added that emergency services were trying to get to the bottom of what happened.
Shocking new drone footage later emerged of the destroyed apartment building, with one flat entirely gutted by the blast and the roof caved in.
Residents were urged to avoid the area and keep windows and doors closed, with some people reportedly jumping out of windows to escape the blaze.
Witnesses described hearing an explosion before seeing an "inferno" at the 20-storey block of flats - with a large portion of the roof collapsing in the explosion.
Read more: Arrests made as protesters block motorways over fuel prices and slam 'greedy' Govt
A spokesperson for Bedfordshire Fire and Rescue Service said: "Emergency services have responded to an explosion at Redwood Grove, Bedford this morning (Monday).
"This resulted in a significant fire at a three storey block of 20 flats, which has engulfed the whole building and caused a large portion of the roof to collapse."
Six appliances were sent to the scene, including two water carriers, an incident command unit and the air ambulance.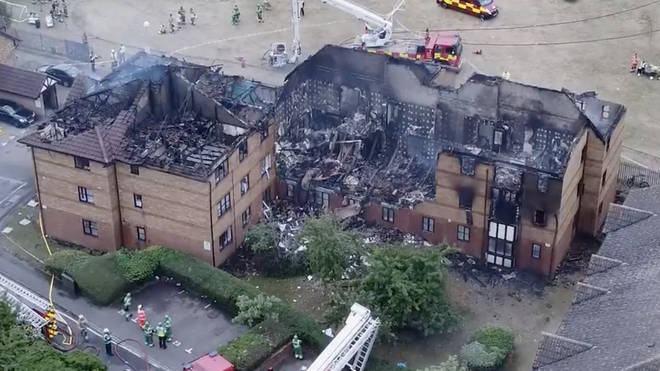 A local resident in Bedford said they saw a person jumping from a second-floor window to escape the burning building.
"I heard the explosion from my house round the corner," said the resident, who wished to remain anonymous.
"I walked to town and saw the flames and also witnessed someone jump from the second-floor window whilst flames were blaring out."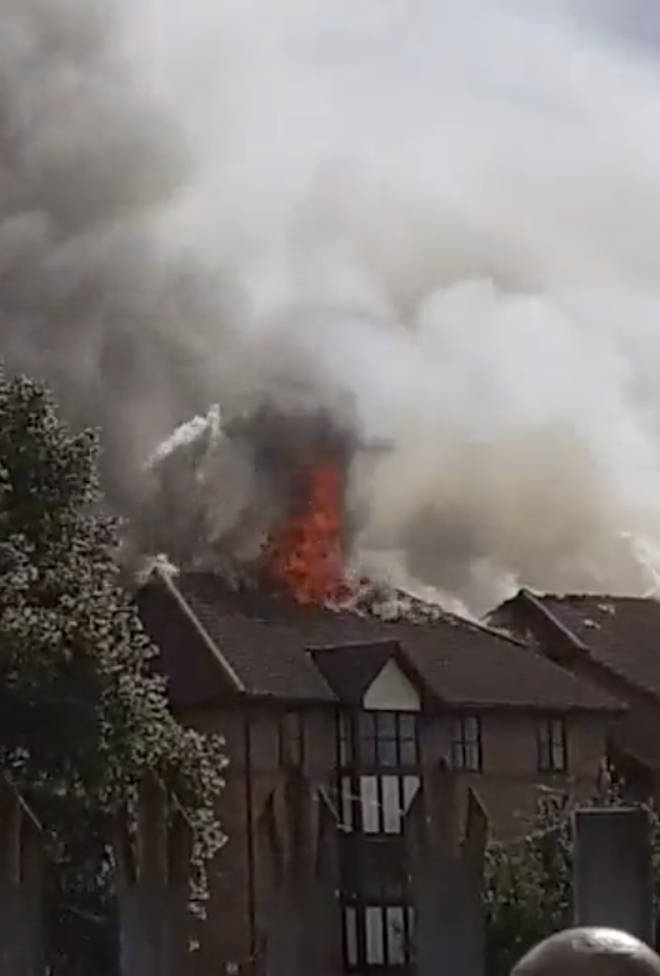 Retired photographer John O'Reilly, who lives in a block of flats adjacent to the block where the fire was, said the blast knocked him off his feet and there were bricks strewn across the road.
The 76-year-old, speaking at a police cordon along the road from the flats, said: "There was a loud explosion which knocked me off my feet.
"I got dressed and walked out into the road and walked out into the road to find the adjacent block on fire.
"There were bricks in the road so it was obviously a very large explosion to do that sort of damage."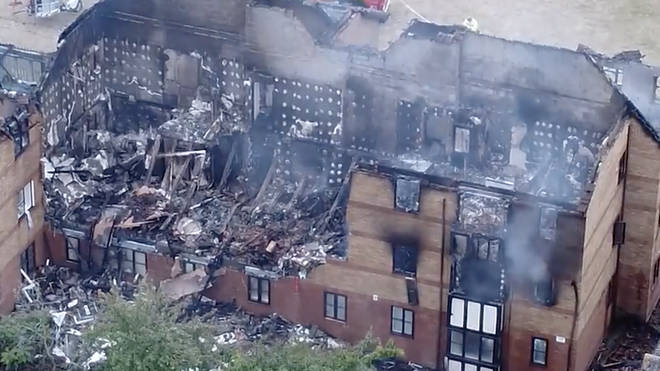 Adam Fisher, 37, whose office is nearby, said: "A huge explosion heard - everyone went to our work car park to see what was happening.
"Our building is adjacent to the apartment complex - immediately an inferno (was) visible, huge smoke cloud billowing, people screaming and people frantically calling for emergency services."
Footage shared on social media shows plumes of flame erupting from the building as fire engines showered the blaze with water.
Luke Larner wrote on Twitter: "Big pillar of smoke and lots of sirens coming from Alban Retail park on the A6 in Bedford, area best avoided. Hope everyone is ok."
A nearby primary school has been evacuated as a result of the blaze.
An Emergency Assistance Centre has been set up at The John Bunyan Centre in Bedford, for people who have been evacuated and need support.
Around 20 people were at the centre by 2pm, said Sarah Stevens, manager for community safety and resilience for Bedford Borough Council.
She said the "majority" of people had "gone to friends and family so they're safe and settled".
Ms Stevens said staff were assessing whether people would be given the option to stay in the hall overnight or offered "other forms of emergency accommodation".
"Hot food is on site, everyone's been offered food, we're working through lists of needs for people, medical requirements, clothing," she said.