Coca-Cola, Pepsi, McDonald's and Starbucks all suspend business in Russia
8 March 2022, 17:56 | Updated: 9 March 2022, 10:49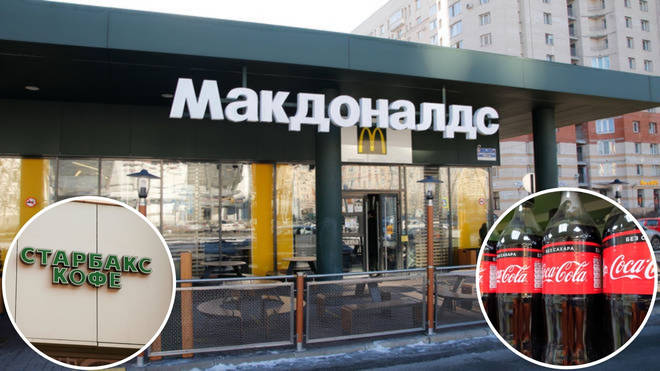 Coca-Cola, PepsiCo, McDonald's and Starbucks have all suspended business in Russia in response to Vladimir Putin's invasion of Ukraine.
In a statement on Tuesday evening, PepsiCo CEO Ramon Laguarta said: "Given the horrific events occurring in Ukraine we are announcing the suspension of the sale of Pepsi-Cola, and our global beverage brands in Russia, including 7Up and Mirinda.
"We will also be suspending capital investments and all advertising and promotional activities in Russia."
He added: "We have a responsibility to continue to offer our other products in Russia, including daily essentials such as milk and other dairy offerings, baby formula and baby food."
Meanwhile, Coca-Cola also made the decision to temporarily halt business in Russia.
"Our hearts are with the people who are enduring unconscionable effects from these tragic events in Ukraine," Coca-Cola said.
"We will continue to monitor and assess the situation as circumstances evolve."
READ MORE: UK and US ban Russian oil in a worldwide move to punish Putin for Ukraine war
READ MORE: Defiant Zelenskyy urges MPs to recognise Russia as a 'terrorist state' in historic address
It comes after Starbucks announced it was "suspending all business activity in Russia, including shipment of its products and cafes run by a licensee".
Starbucks CEO Kevin Johnson confirmed the news, saying the 130 Starbucks shops in Russia, operated by a partner through a licensing agreement, will close indefinitely.
The coffee chain's 2,000 employees in Russia will still be paid, he said.
McDonald's earlier said it was temporarily closing all of its 850 restaurants in Russia.
President and CEO Chris Kempckinski said closing the stores is the right thing to do because McDonald's cannot ignore the "needless human suffering in Ukraine".
The burger giant said it will continue paying its 62,000 employees in Russia.
McDonald's owns 84% of its Russian restaurants, while Russia and Ukraine contributed 9% of the company's revenue last year.
There had been calls for a boycott of the companies as they continued to operate in Russia despite the conflict.
Burger King and KFC face similar criticism for continuing to operate.
A number of other companies have ceased operations in Russia as a result of Mr Putin's actions.
Apple, Microsoft and a number of car manufacturers such as Ford and General Motors are just some of the corporations that have ceased trading.
Other companies, such as TikTok and Netflix, have been forced to restrict their operations there due to a law change banning negative coverage of the war.
It has been 13 days since Russia invaded Ukraine.
In that time Russian troops have seized several key parts of the country - including the Chernobyl power plant - but have so far failed to gain control of the capital Kyiv.