'We ask you to reconsider': Met urges pro-Palestinian activists to 'postpone' Armistice Weekend protests
6 November 2023, 17:45 | Updated: 7 November 2023, 11:18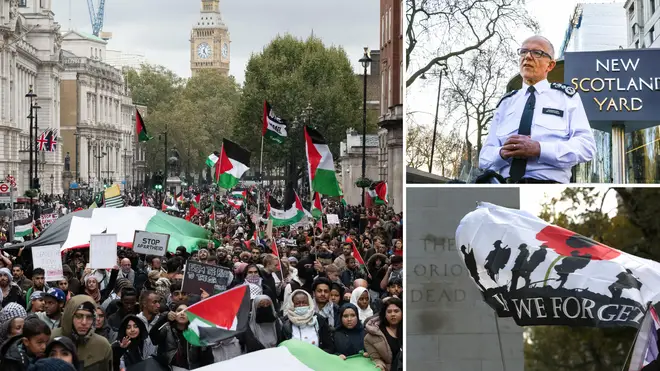 The Metropolitan Police has asked pro-Palestinian activists to 'postpone' planned protests for this Armistice Weekend.
The Met said that senior officers are concerned about "criminal acts" being carried out by "breakaway groups intent on fuelling disorder who are attracted by these regular events."
Deputy Assistant Commissioner Ade Adelekan said: "The risk of violence and disorder linked to breakaway groups is growing."This is of concern ahead of a significant and busy weekend in the capital.
"Our message to organisers is clear: Please, we ask you to urgently reconsider. It is not appropriate to hold any protests in London this weekend."
But Raghad Altikriti Chairman of the Muslim Association of Britain suggested that the protest would go ahead on Saturday, telling LBC's Andrew Marr that if the official organising groups pulled out, more sinister "fringe" elements could launch their own march instead.
"We do have respect for Armistice Day," she said. "We are not marching on Remembrance Sunday... the banning of this protest would be dishonouring the memory of those who fought for freedom of speech, freedom of assembly."
Lindsey German, of Stop the War, said: "We met the police today and argued that we wanted to march and were determined to go ahead.
"We believe that this is a denial of our civil liberties and our freedom of expression.
"The brutal onslaught on Gaza is being protested across the world. We have had huge demos on Palestine and we continue to do so. We will not be silenced."
The Palestine Solidarity Campaign said they were "deeply concerned" by the Met's statement, adding that the police must "act to uphold democratic freedoms including the right to protest."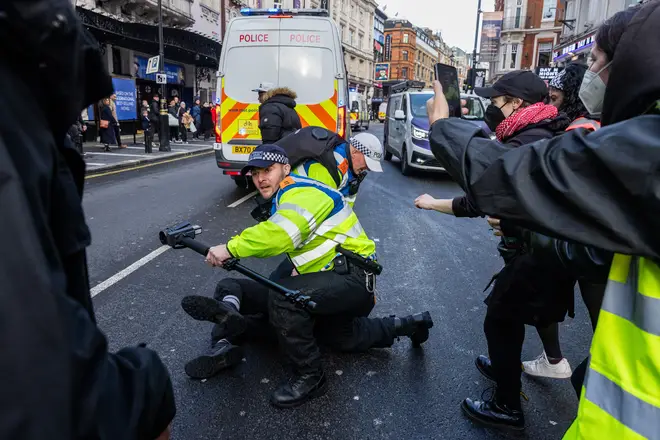 It comes after Rishi Sunak said that Metropolitan Police have the "absolute and total backing" of ministers to tackle criminality, ahead of a planned pro-Palestinian march on Saturday.
The Prime Minister said today: "Remembrance Day is a time for national reflection. It is a time when I know the whole country will come together to pay tribute to those who have paid the ultimate sacrifice to keep us safe.
"I want to make sure police have our absolute and total backing to clamp down on any acts of criminality, but also to ensure public order."
Read More: Rishi Sunak says police have 'absolute and total' support ahead of pro-Palestinian protest planned for Armistice Day
Read More: Met 'won't bow to political pressure' over pro-Palestine Armistice Day protest, ex top cop says, amid calls to cancel
British military veterans have also come out against the protests with many calling for demonstrations on Armistice Day to be banned.
Former British Army bomb disposal officer, Major Chris Hunter branded the protest "brazenly ill-conceived" and called on organisers to cancel it.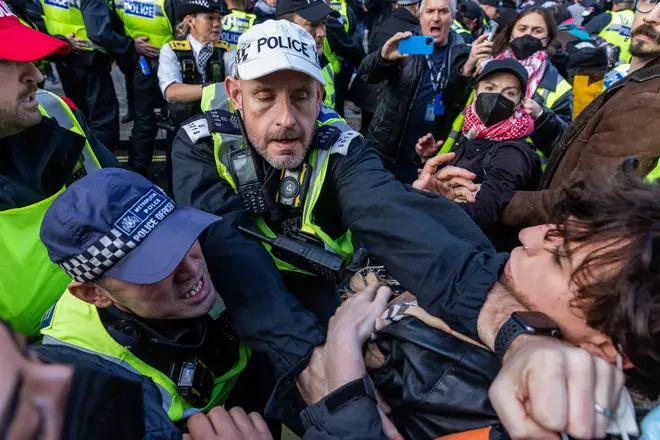 Posting on Instagram the decorated ex-soldier wrote: "The Friends of Al-Aqsa have opted to orchestrate a Million March for Palestine in the heart of London, an act of timing so misjudged that it casts a dark shadow over our nation's most sacred tradition—the Service of Remembrance at the Cenotaph."
"This brazenly ill-conceived protest threatens to desecrate the sanctity of this cherished occasion, serving as a profound affront to the memory of our valiant veterans, of all faiths, and their monumental sacrifices.
'I implore the organizers, on this hallowed weekend of remembrance, to re-evaluate their timing, for anything less would be a grievous miscalculation. There is a sleeping giant in this country, the likes of which I hope is never woken. Lest we forget."