England could face tougher tier system when lockdown ends on December 2
17 November 2020, 10:16 | Updated: 17 November 2020, 14:39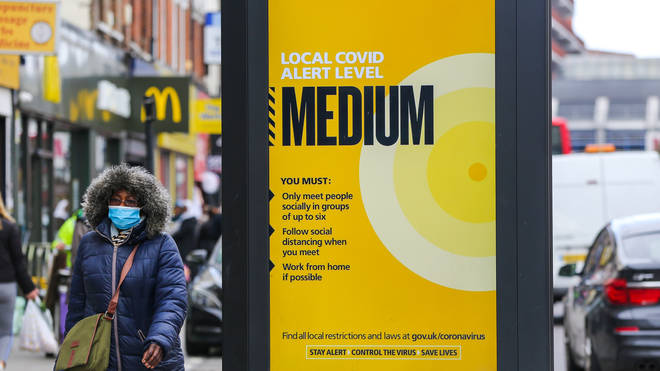 Ministers are looking at plans that could see a tougher coronavirus tier system introduced when England comes out of lockdown on December 2.
No10 is under increased pressure to make the system tougher after health officials warned the lowest restrictions had "little effect" on infection rates.
Shadow health secretary Jonathan Ashworth on Tuesday pressed Matt Hancock on whether there were plans to imposer stricter Tier 1 rules, echoing criticism from Public Health England's Dr Susan Hopkins at a press conference earlier this week.
Mr Ashworth asked Mr Hancock in the Commons today: "Yesterday at his press conference we heard that Tier 1 has had very little effect and that the tiers must be strengthened.
"So can he confirm that it is the Government's intention to impose a tougher set of restrictions on Tier 1 areas post this lockdown?"
Mr Hancock did not rule it out, and replied: "It is too early to do the analysis that (Mr Ashworth) requests, but of course we remain vigilant."
Read more: 'Candle of Hope': UK secures millions of Covid vaccines
Read more: Tier system may 'need to be strengthened' over Christmas, health chief says
Communities Secretary Robert Jenrick said earlier: "We will be looking at whether the measures that we had in the old tiers were effective.
"Remember, they varied quite a bit in different parts of the country, because in Tier 3 there was a baseline of measures, which the chief medical officer and others have always said was only the beginning, and we then asked local areas to consider whether they would be willing to go further than that, some did, some decided not to.
"So I think in the new tiers we'd like greater consistency and we'll have to look at the evidence to see which of those measures was actually the most impactful on the virus so that we take the most evidence-based approach that we can do.
"We haven't come to a conclusion on that yet, to be perfectly honest, but we will be within the next week or so."
Dr Hopkins said yesterday: "We see very little effect from Tier 1 and I think when we look at what tiers may be there in the future, we will have to think about strengthening them in order to get us through the winter months until the vaccine is available for everyone."
She warned ministers would have to consider strengthening the measures for the coming months if it hoped to get the virus under control.
Dr Hopkins, who is advising the Government on its Covid-19 response, added that Tier 2 restrictions appeared to have worked in some areas but "not so well in others".
The health secretary repeated his belief that it is "too early" to make decisions on what should happen after the lockdown in England comes to an end.
"But we absolutely hope to be able to replace the national lockdown with a tiered system similar to what we had before," he added.
He was not drawn on whether coronavirus cases will be reduced enough to ease national restrictions on 2 December as planned, and called on the public to "persevere" as the country tackles the second wave of the virus.
Read more: Hancock tells anti-vaxxers that vaccine is 'much less worse than getting the virus'
Read more: Months of Covid restrictions ahead despite vaccine, BioNTech boss admits
In an interview with LBC on Tuesday morning, Mr Jenrick told LBC the Government's "hope and expectation" is that England will return to a tiered system, but said ministers could lay down plans in parliament to extend - only if it is backed by MP in a vote.
It signals an ongoing debate between cabinet ministers and Conservative MPs over the next steps to tackle the spread of the virus - with some in favour of extending the lockdown and others hoping to move back into lighter local measures.
Tory backbencher Kevin Hollinrake called on Mr Hancock to look at a tiered system by districts and highlighted the economic effects of the lockdown on the hospitality sector as "very severe".
Mr Hancock pointed to a Covid-19 vaccine as the only way to ensure the UK comes out of tough restrictions in the middle of next year.
The likelihood of securing a vaccine moved a step closer yesterday after early data showed a new jab to be almost 95% effective in protecting against the virus.
Scientists welcomed the "tremendously exciting" news that US firm Moderna's jab may be highly effective in preventing people getting ill and may work across all age groups, including the elderly.
Mr Hancock said "great advances in medical science are coming to the rescue", but admitted the UK had only secured five million doses of Moderna's jab.
"While there is much uncertainty, we can see the candle of hope and we must do all that we can to nurture its flame," he said.
"But we're not there yet. Until the science can make us safe we must remain vigilant and keep following the rules that we know can keep this virus under control."
Read more: Government signs deal for 5 million doses of Moderna Covid vaccine
The UK has already secured 40 million doses of a vaccine from Pfizer/BioNTech, which uses the same technology as Moderna and should be in the UK before Christmas.
But the Government did not place orders with Moderna at the same time and a Government spokesman said the jab would not become available until "spring 2021 in the UK at the earliest" after spending much of Monday in negotiations with the company.