'She lit up the room like a beacon': Missing British girl, 16, murdered in Hamas attack, family says
22 October 2023, 17:34 | Updated: 22 October 2023, 17:55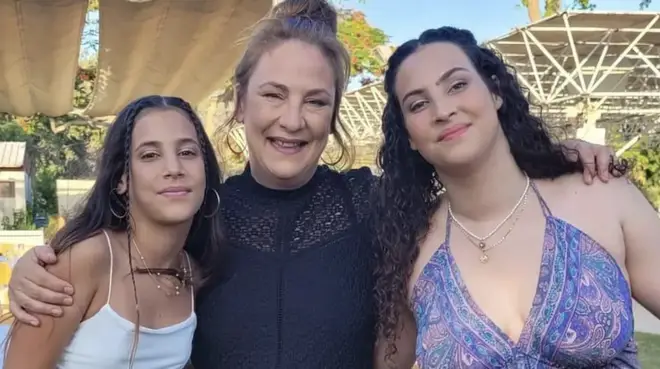 British teenager Noiya Sharabi was murdered in a Hamas attack, her family has said, after she went missing during an attack on Kibbutz Be'eri in southern Israel.
Her family confirmed Noiya's death in a statement on Sunday.
"Noiya was clever, sensitive, fun and full of life - her smile lit up the room like a beacon," her family said.
"We are heartbroken she has gone, but forever grateful she was here."
It comes after her family confirmed the death of Noiya's 13-year-old sister, Yahel, last week. Noiya died along with her sister Yahel and mother Lianne, 48, after the Hamas attack.
Bristol-born Lianne's heartbroken British family had described her as "a beloved daughter, sister, mother, aunt and friend who enriched the lives of all those lucky enough to have known and loved her".
Relatives previously described Yahel as "funny" and a girl who enjoyed singing and dancing.
The family's father, Eli, is still missing.
Noiya and Yahel went missing after the massacre at the Kibbutz on October 7, when Hamas launched an attack on Israel.
Read more: Named and shamed: Worldwide revulsion as student Marie Andersen pictured with anti-Semitic sign binning Star of David
Read more: Israel pummels Gaza and bombs mosque in the West Bank as Iran threatens that the Middle East 'will go out of control'
It comes as Israeli airstrikes continue to batter Gaza ahead of its expected ground invasion.
Israel has repeatedly hinted as a ground invasion that will see its troop enter the dense urban environment, which sits on top of a miles-long underground tunnel system dubbed the "Gaza metro".
It wants to end Hamas's capacity to harm its citizens again after losing 1,400 people since the terror group launched its massacre on October 7.
At least seven British people are confirmed to have died and 9 more are missing and feared dead in the wake of Hamas's massacre in Israel.