MPs face 'substantial' threat in wake of Sir David Amess stabbing, Priti Patel says
21 October 2021, 07:39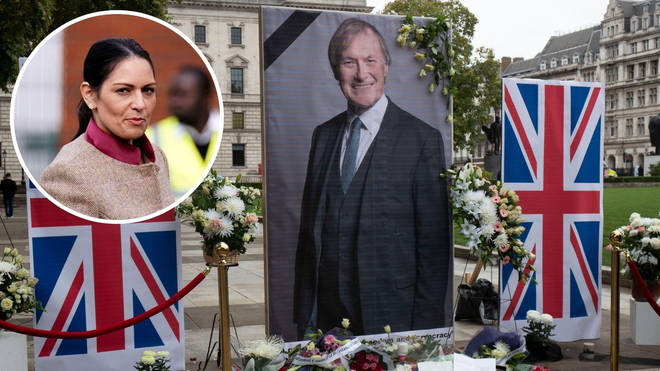 The threat level facing MPs is "substantial", Priti Patel has told her colleagues.
The Home Secretary informed the House of Commons on Wednesday evening that analysis has concluded they face the same terror level as the UK as whole.
It comes in the wake of the fatal stabbing of Sir David Amess on Friday, which has prompted a review into MP's security arrangements.
She said: "While we do not see any information or intelligence which points to any credible or specific or imminent threat, I must update the House that the threat level facing Members of Parliament is now deemed to be substantial.
"This is the same level as the current national threat to the United Kingdom as a whole, so I can assure the House that our world-class intelligence and security agencies and counter-terror police will now ensure that this change is properly reflected in the operational posture."
Read more: Iain Duncan Smith reveals chilling death threat days after killing of Sir David Amess
Read more: Devastated family of Sir David Amess visit sea of tributes at church where he was killed
Sir David's death has prompted concerns about how well-protected the nation's elected representatives are, and sparked a debate about balancing their security against their desire to meet constituents in regular surgeries.
The Conservative MP of almost 40 years was holding a meeting with constituents.
It was the second killing of an MP in five years, after Jo Cox's murder.
Police can question the suspect in Sir David Amess' death, Ali Harbi Ali, until Friday, and the Met said its early inquiries suggested a potential link to Islamist extremism.
Ms Patel, whose comments followed the erection of a gallows outside Parliament on Wednesday, has spoken to police forces and asked for a review of MPs' security arrangements.
Shadow home secretary Nick Thomas-Symonds said: "In order to stand firm in the face of these threats we must do everything possible to guard against these violent positions, not least as we hear, as the Home Secretary has set out, that the threat level to MPs has been raised to substantial, and we accept the assessment made by the joint terrorism assessment centre that the threat has increased."
He had earlier said: "I know that in the face of such unspeakable hatred we stand united and unshakeable in this House, that those who use violence in an attempt to divide us shall never win and we refuse to be intimated by these dark forces. And yes, that goes for the vile individual or individuals who erected a noose in Parliament Square today."
He added: "We must now take necessary steps not just for our own safety but for our staff and that of our constituents as well."