MPs back tougher sanctions against oligarchs under new fast-tracked law
7 March 2022, 22:40 | Updated: 7 March 2022, 23:48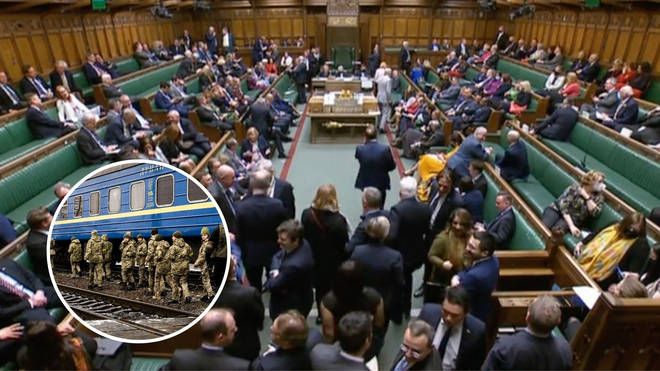 MPs have backed tougher sanctions against oligarchs under new laws that could impact "hundreds" as soon as next week.
The fast-tracked Economic Crime (Transparency and Enforcement) Bill cleared the House of Commons after receiving an unopposed third reading on Monday.
It is intended to establish a new register of overseas entities requiring foreign owners of property in the UK to declare their true identity.
It will need to be updated annually, with failure to declare details, or submission of false information, resulting in the asset being frozen.
Reforms contained in the Bill faced months of delays and only moved up the Government's list of priorities following Russia's invasion of Ukraine.
It will undergo further scrutiny in the House of Lords at a later date, with business minister Paul Scully committing the Government to amending potential loopholes in the Bill - including dealing with what Sir Iain Duncan Smith labelled a "back door" to those hoping to avoid reporting requirements.
Read more: Michael Gove warns Russia's invasion is the world's biggest crisis since 9/11
Read more: David Miliband 'embarrassed and disappointed' in UK response to Ukrainian refugee crisis
Meanwhile, a Labour amendment which sought to compel the Government to publish draft legislation on reforms to Companies House was rejected by 306 to 225.
A further amendment from former Tory minister David Davis - intended to deny individuals named as being considered for sanctions from selling their assets or moving funds or assets out of the UK - was also rejected 300 to 234.
Speaking during committee stage of the Bill, Mr Scully told MPs that the Government wanted to make sure the "drafting is right" for those backbench amendments that it has "sympathy" with.
He added: "I am happy to work with colleagues who moved those amendments to make sure that we can get that right and see what more we can do in the Lords."
As MPs considered amendments, Mr Davis outlined why further action is needed to seize assets. He said: "What will we see during the months it takes to get these people sanctioned? We'll see Russians scrambling to sell off their houses, disposing of their businesses, offloading their football clubs."
He said that by the time the sanctions take effect, the "horse will have well and truly bolted".
It comes after Foreign Secretary Liz Truss said hundreds of individuals could be sanctioned next Tuesday if emergency legislation is passed as scheduled.
She said earlier on Monday: "If Parliament passes the legislation by Monday March 14 we will be able to sanction the hundreds of individuals by next Tuesday, March 15."
Home Secretary Priti Patel earlier branded Russian President Vladimir Putin a "gangster", adding: "Putin's cronies have hidden dirty money in the UK and across the West and we do not want it here.
"Expediting this legislation, which I know this whole House supports, will mean that we can crack down on the people who abuse the UK's open society."