NASA Employees Celebrate Mars Landing With Out of This World Handshake
27 November 2018, 10:54
NASA Insight's landing marks the eighth time in human history that an aircraft has successfully landed on Mars.
NASA's InSight spacecraft, the first robotic lander designed to study the interior of the red planet, touched down safely on Mars' surface on Monday.
The spacecraft was launched from California in May, with a mission cost of close to $1 billion. It will spend the next two years - about one Martian year - collecting data to help unlock mysteries about how Mars was formed and, by extension, the origins of the Earth and other rocky planets.
NASA Administrator Jim Bridenstine said that InSight will "teach us valuable science as we prepare to send astronauts to the Moon and later to Mars."
The announcement of the aircraft's successful landing, which launched over six months ago, triggered celebrations at NASA as the InSight team were able to breathe a sigh of relief.
Cameras were rolling to capture reactions in the control room when two scientists broke into an elaborate handshake which was then shared widely on Twitter.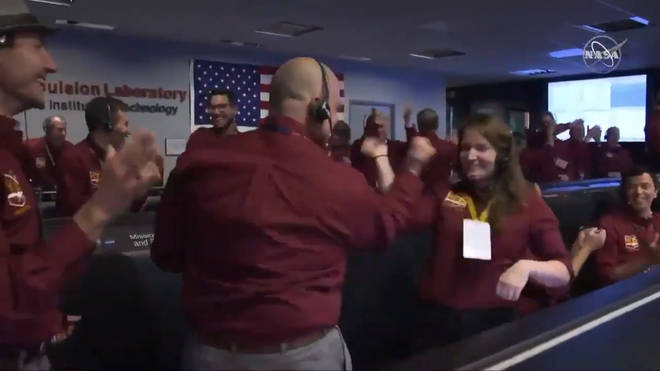 "Our @NASAInSight spacecraft stuck the #MarsLanding! Its new home is Elysium Planitia, a still, flat region where it's set to study seismic waves and heat deep below the surface of the Red Planet for a planned two-year mission", NASA tweeted alongside the video.
The victory handshake soon went viral on Twitter, as many commented that it was literally out of this world.
When quizzed about the origins of the handshake, the scientists revealed that they are both football fans and that they came up with the handshake because "touchdown celebrations are back" and that they had been practising it for five or six weeks.