Nicola Sturgeon survives no confidence vote on her leadership
23 March 2021, 16:18 | Updated: 23 March 2021, 19:31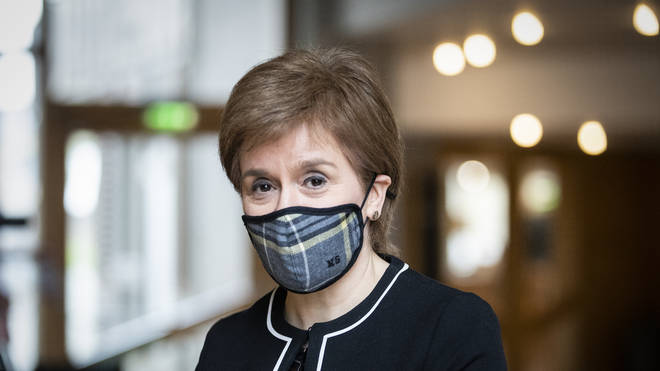 Scottish First Minister Nicola Sturgeon has survived a vote of no confidence on her leadership.
The motion against the under-fire SNP leader was defeated by 65 votes to 31 in the Scottish Parliament.
An inquiry by a lawyer concluded Sturgeon did not breach the ministerial code over how her government dealt with harassment allegations against her predecessor Alex Salmond.
However, a separate investigation by a committee of MSPs found she did mislead parliament.
A Scottish Parliament committee set up to investigate the handling of harassment allegations stated that Nicola Sturgeon misled MSPs.
Those probing the Scottish Government's handling of harassment allegations against former first minister Alex Salmond said they "find it hard to believe" that Ms Sturgeon had "no knowledge of any concerns about inappropriate behaviour on the part of Mr Salmond prior to November 2017".
This week, an independent inquiry found Nicola Surgeon did not breach the ministerial code following allegations she failed to record meetings with Alex Salmond and others in 2018.
READ MORE: Holyrood harassment committee concludes Nicola Sturgeon misled Parliament
James Hamilton QC's investigation, published on Monday, examined whether Scotland's first minister "attempted to influence the conduct of the investigation" into Mr Salmond and if she misled parliament.
The 61-page report said: "I am of the opinion that the First Minister did not breach the provisions of the Ministerial Code in respect of any of these matters."
Mr Hamilton, the former director of public prosecutions in the Republic of Ireland, is the independent advisor to the Scottish Government on the ministerial code - a set of rules about how ministers should conduct themselves.
Ms Sturgeon always denied breaching the code.