Three-month-old baby among eight killed as Russian missile strikes hit Odesa
24 April 2022, 07:01 | Updated: 24 April 2022, 08:35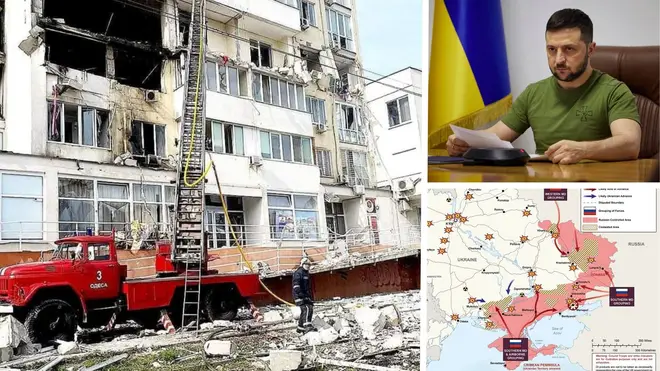 Eight people have been killed, including a three-month-old baby, in a Russian missile attack on Odesa, Ukrainian officials have said.
A residential building, understood to be an apartment block, was one of a number of targets hit by Russian rockets in the port city on Saturday. A rescue operation is under way.
Russia later confirmed that it had carried out strikes in the area.
It comes as US officials are set to visit Kyiv to discuss Ukraine's request for more powerful weapons.
Ukrainian President Volodymyr Zelenskyy announced the visit, which is the highest-level trip by the US since the war began at the end of February.
"Tomorrow we will discuss this exact list of weapons that are essential for us and the pace of deliveries," Mr Zelenskyy said in his nightly address, which took place in an underground metro station.
"We would like to have... powerful heavy weapons. As soon as we have [more weapons], as soon as there are enough of them, believe me, we will immediately retake this or that territory, which is temporarily occupied."
Read more: British embassy in Kyiv to reopen in show of support for Ukraine, PM announces
Read more: Met police war crimes unit receives evidence of 50 atrocities by Russian troops in Ukraine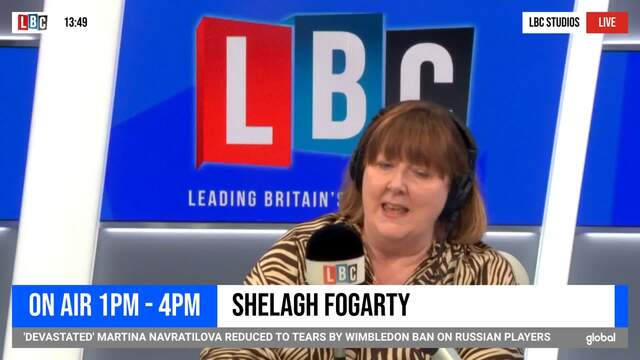 'They've taken some to Russia, they've killed others.'
Mr Zelenskyy used a phone call on Saturday afternoon with Boris Johnson to thank him for currently training members of Kyiv's military in the UK, according to Downing Street.
A No 10 spokesman said: "The Prime Minister confirmed that the UK is providing more defensive military aid, including protected mobility vehicles, drones and anti-tank weapons. President Zelenskyy thanked the Prime Minister for the training of Ukrainian military personnel currently taking place in the UK."
Mr Zelenskyy later said he is "satisfied" with the military aid coming from the UK.
Asked about support from other nations, he told a press conference: "We're grateful with, in particular, the support from the United States.
"We want more than we're being given, but we're satisfied, we cannot refuse or reject anything during the war from the biggest military aid, which is coming from the United States and the United Kingdom.
"There are many other friends in Europe, but I'm talking about volumes of help and I'm grateful for it."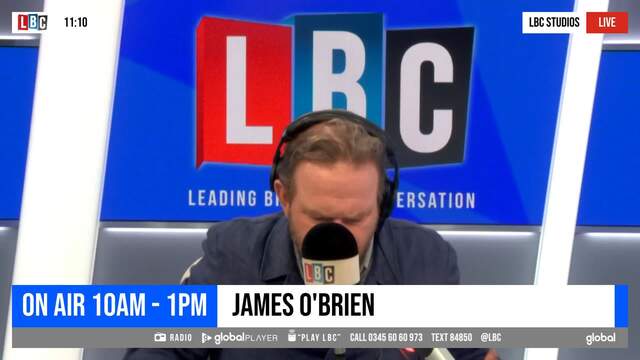 James O'Brien rails against govt's Ukraine refugee system
Elsewhere, Russian forces are attacking a steel plant that is the last Ukrainian stronghold in the city of Mariupol, a Ukrainian official said.
Oleksiy Arestovych said in a video message that Moscow had resumed its air strikes and efforts to storm the industrial complex, which represents the last hold Ukrainians have in the embattled port city.
Earlier on Saturday a video was released by the Azov regiment of Ukraine's National Guard - part of the group holed up in the Azovstal plant.
It appeared to show women and children sheltering underground, with some reported to have been hiding in the tunnels for up to two months.
It comes after President Volodymyr Zelenskyy warned that Russia's invasion in Ukraine was only the beginning, with concerns that the Kremlin may move on to other countries such as Moldova - a former Soviet state.
While Russia pulled a dozen crack military units from the city to bolster its offensive elsewhere in the Donbas, others continue to keep the remaining Ukrainian troops in Mariupol pinned in the Azovstal steelworks.
Putin was previously said to have ordered his forces not to storm the plant to finish off the defenders, but to seal it off instead in an apparent bid to force them to surrender.
"Every day they drop several bombs on Azovstal," said Petro Andryushchenko, an adviser to Mariupol's mayor.
"Fighting, shelling, bombing do not stop."
Mariupol has been reduced largely to smoking rubble by weeks of bombardment, with Russian state TV having shown the flag of the pro-Moscow Donetsk separatists raised on what it said was the city's highest point, its TV tower.
Satellite images also suggest a mass grave was discovered in the city, which Ukrainians say could contain the bodies of at least a thousand civilians.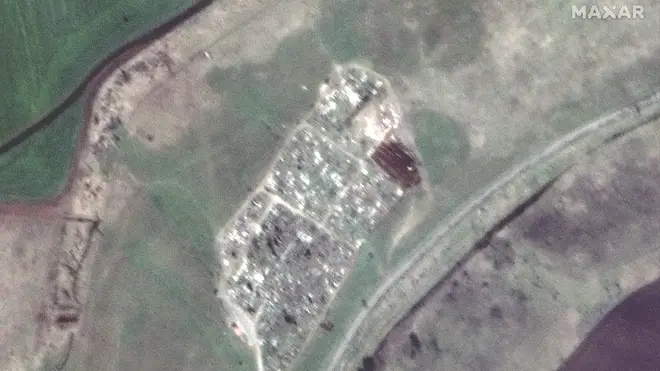 Meanwhile, fierce Ukrainian counter-attacks have slowed Russian troops' offensive in the eastern Donbas region as they attempt to seize Ukraine's industrial heartland, officials said.
However, Russia continues to fight for full control of the eastern Donetsk and Luhansk regions that make up the Donbas as it seeks to secure "a land route between these territories and the occupied Crimea", Ukraine's military said.
In its latest intelligence update, the MoD said: "Ukraine has repelled numerous Russian assaults along the line of contact in the Donbas this week.
"Despite Russia making some territorial gains, Ukrainian resistance has been strong across all axes and inflicted significant cost on Russian forces.
"Poor Russian morale and limited time to reconstitute, re-equip and reorganise forces from prior offensives are likely hindering Russian combat effectiveness."