Oxford vaccine milestone hailed as PM unveils winter Covid plan
23 November 2020, 07:13 | Updated: 23 November 2020, 17:53
The University of Oxford's coronavirus vaccine has been hailed as a milestone in the fight against the virus after tests showed it can prevent at least 70 percent of people from getting Covid-19.
Scientists have hailed the news from the Oxford/AstraZeneca Covid vaccine trial because the vaccine is cheaper and easier to store and distribute than other candidates.
Data suggests perfecting the dose could increase effectiveness of the Oxford Astrazeneca vaccine to up to 90 percent.
Oxford University said that interim analysis from its phase three vaccine trial shows that the 70% effectiveness comes from combining two doses. One was 90% effective, the other 62%.
Peter Horby, professor of emerging infectious diseases and global health at the University of Oxford tweeted: "Oxford jab is far cheaper, and is easier to store and get to every corner of the world than the other two."
The tests show the jab is also effective in preventing many people getting ill and it has been shown to work in different age groups, including the elderly.
The announcement on the vaccine came the same day Boris Johnson lay out the new rules about what will happen to England's tier system when lockdown ends on December 2.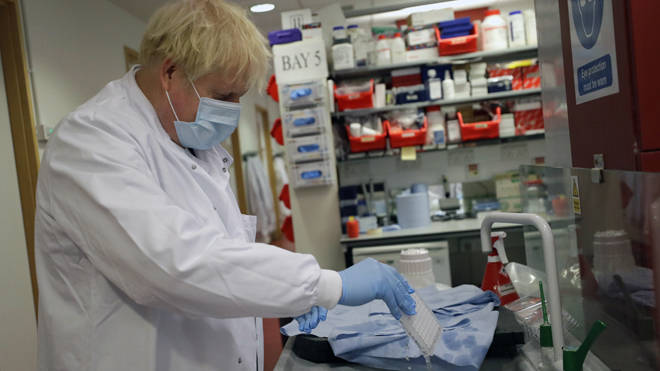 Professor Andrew Pollard, director of the Oxford Vaccine Group and chief investigator of the Oxford Vaccine Trial, said:
"These findings show that we have an effective vaccine that will save many lives. Excitingly, we've found that one of our dosing regimens may be around 90% effective and if this dosing regime is used, more people could be vaccinated with planned vaccine supply.
"Today's announcement is only possible thanks to the many volunteers in our trial, and the hard working and talented team of researchers based around the world."
Sarah Gilbert, professor of vaccinology at the University of Oxford, said: "The announcement today takes us another step closer to the time when we can use vaccines to bring an end to the devastation caused by (Covid-19).
"We will continue to work to provide the detailed information to regulators. It has been a privilege to be part of this multi-national effort which will reap benefits for the whole world."
Boris Johnson said: "Incredibly exciting news the Oxford vaccine has proved so effective in trials. There are still further safety checks ahead, but these are fantastic results."
Sarah Hurst, 47, took part in the AstraZeneca and Oxford University research, receiving two jabs of either the experimental vaccine or a placebo.
She said there was a "tiny sense of pride" at her involvement but paid tribute to the scientists and researchers who developed the vaccine.
Ms Hurst, a journalist from Goring-on-Thames in South Oxfordshire, said: "It's really the developers and everyone who's done all the work, all the medical students who are constantly all day meeting the vaccine participants and testing them and being on the front line.
"But it's good, it's a great feeling to help to make a vaccine."
Ms Hurst, who said she felt no side-effects from her two jabs, said the results are "promising" and noted that "the fact that it doesn't need to be chilled at a very low temperature and is cheaper than the other vaccines will help in making it easier to distribute".
But she added: "People have only been vaccinated for a few months so I would still want to know what are going to be the results after a year? Is it going to be effective after a year?
"That's something you really just have to wait for."
Health Secretary Matt Hancock confirmed to LBC that 100 million doses of the Oxford vaccine have been ordered and that "all three" of the vaccines in development "are showing that they are effective."
The UK has enough doses to vaccinate most of the population - with rollout expected in the coming weeks if the jab is approved.
It also has orders for 40 million doses of a jab from Pfizer and BioNTech, which has been shown to be 95% effective.
Another jab from Moderna is 95% effective, according to trial data.
No10 said in a statement: "The results from the University of Oxford/AstraZeneca are very encouraging.
"We have already secured early access to 100 million doses of their vaccine for use across the UK if approved - on top of 255 million doses from other vaccine developers.
"The independent Medicines and Healthcare products Regulatory Agency will carry out their crucial work to assess whether the vaccine meets robust standards of safety, effectiveness and quality once it receives the full data from Oxford/AstraZeneca.
"If authorised, the NHS will begin to roll out more widely, starting with those most at risk, in line with Joint Committee on Vaccination and Immunisation advice, and taking into account logistics and practicality.
"Advances including rapid testing, new treatments and vaccines will help us get back to normal but, until then, we must all continue to take the necessary actions to keep ourselves and our loved ones safe, including following the Hands,
Face, Space guidance."
The Prime Minister is set to deliver a statement later today about England's route out of lockdown via a strengthened three-tier system.
Mr Johnson will speak in the House of Commons at around 3:30pm and will later give a televised address to the nation where he is expected to explain how the Covid measures will be relaxed in time for Christmas.
On Sunday, it was revealed that the four UK nations have backed plans to allow household bubbling "for a small number of days" over Christmas.