Police forces 'short by around £3 billion and 40,000 staff' as chief warns of the need to 'scale up' to tackle crime
15 November 2023, 17:34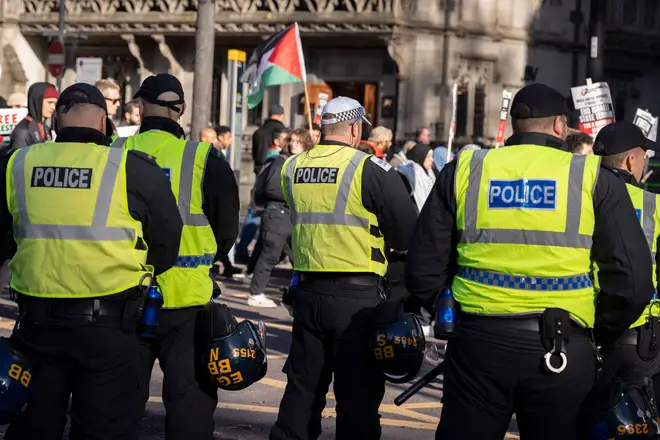 Police forces are 'underpowered and underrepresented' and are being forced to consider cuts with a funding gap of more than £3 billion.
One of the most senior chief constables has also warned that they could do with another 40,000 colleagues to support their work.
Gavin Stephens, who chairs the National Police Chiefs' Council, told LBC the government needs to update its funding formula and "move the conversation on" from seeing officer numbers as a measure of success - and start allowing them to fill backroom staff vacancies.
"We are pegged on our officer numbers and if we don't hit those there are financial penalties," he said, "and so the hits are being felt by police staff working in jobs like digital forensics, crime scene examination, call answering and police and community support officers.
Read more: 'I will not allow a foreign court to block Rwanda flights,' says Sunak as he announces emergency legislation
Read more: Charles and Harry's 'major turning point': King and son to talk next week after olive branch birthday phone call
"We need some flexibility and a conversation about the whole workforce, not just officer numbers."
Mr Stephens used a summit of police leaders in London to warn that investment in policing isn't keeping up with the demands of the job.
He said over the past two years, forces have borrowed more than £1bn and dipped into reserves by more than £1bn, warning that it would get worse without reforms.
"Since 2010, officer numbers have increased by 2.5% while recorded crime has increased by 25%," he explained.
"Without scaling up our response in neighbourhood policing, public protection, fraud and cybercrimes, then we run the risk of continuing to disappoint our communities in the services we can provide."
The government hailed their latest officer uplift programme a success, with an extra 20,000 new police officers being recruited - on top of existing targets.
More than 46,000 officers have joined the police in the past four years.
But LBC revealed that since 2019, almost 4,500 new recruits have left their jobs before even finishing their probation.
Gavin Stephens put that down to the 'extraordinarily difficult' context that officers are policing in just now.
He told LBC: "I've been policing for over 30 years, and I absolutely love it, but I can't find the words for how difficult it's been over the past few years and the impact of high-profile cases have had for police culture - it pains me to the core.
"We need to begin to expose a different story about police culture because there are still wonderful things that happen in policing every day.
"In the same way that we need a different conversation about the police workforce, we now need a different conversation about what we want policing to feel like in future because I want future generations to see the police as a place where they can thrive.
"This is going to take a few years - it won't be quick."