Staff return to Wrexham Oxford-AstraZeneca vaccine plant after suspicious package scare
27 January 2021, 13:19 | Updated: 27 January 2021, 19:58
Staff at the Oxford-AstraZeneca vaccine storage plant in Wrexham have returned inside after a suspicious package led to a "temporary suspension of manufacturing".
A bomb disposal team and police officers spent the day at the industrial estate where doses of the Oxford-AstraZeneca coronavirus vaccine are produced and stored.
Wockhardt, the pharmaceutical company which manages the site, said the suspicious package was received in the morning but that the investigation into it is now over.
A spokeswoman for the firm said: "We can confirm that the investigation of the suspicious package received today has been concluded.
"Given that staff safety is our main priority, manufacturing was temporarily paused whilst this took place safely. We can now confirm that the package was made safe and staff are now being allowed back into the facility.
"This temporary suspension of manufacturing has in no way affected our production schedule and we are grateful to the authorities and experts for their swift response and resolution of the incident."
Read more: Boris Johnson announces school reopening delayed to 8 March
Live: PM confirms plan to reopen schools and introduce quarantine hotels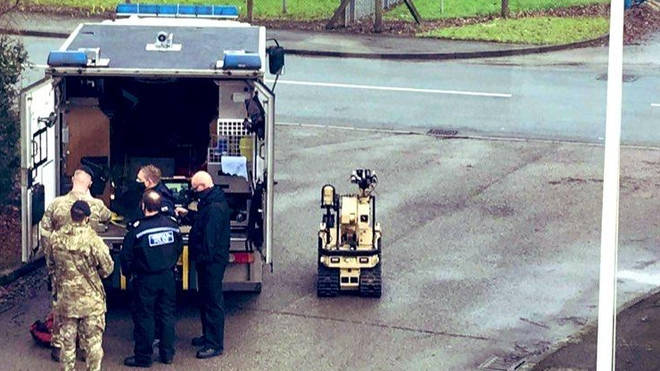 A spokeswoman for the Ministry of Defence said an explosive ordnance disposal team based in Chester was called out just after 11:30am and assisted the authorities in Wrexham.
North Wales Police (NWP) said: "We received a call at 10:41am this morning reporting that a suspicious package had been received at the Wockhardt factory on Wrexham Industrial Estate.
"Officers attended and imposed a security cordon around the site, closing roads to all traffic. Colleagues from the Royal Logistics Corp Bomb Disposal Unit attended and examined the package to make sure it was safe to handle.
"The contents will be taken away for analysis and police will undertake an investigation into the circumstances surrounding the incident.
"There are no wider concerns for public safety, however some roads on the industrial estate will remain closed whilst we continue our investigations."
Read more: Hotel quarantine brought in for 22 Covid hotspot countries, PM says
Watch: 'We tried everything we could,' Jenrick tells LBC after UK hits 100,000 deaths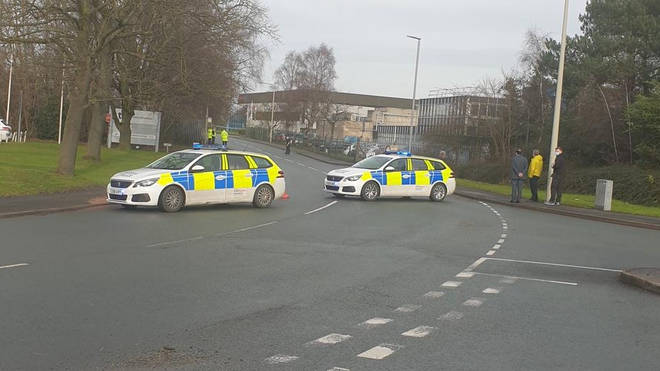 Shortly before 4:30pm, NWP reopened roads around the Wockhardt site in Wrexham and workers who had been waiting outside the cordon were allowed back in.
Following the incident, Covid vaccine minister Nadhim Zahawi tweeted: "Huge thanks to police and all those on site for ensuring nobody was hurt."
Huge thanks to police & all those on site for ensuring nobody was hurt 🙏 And to all across the UK supporting our vaccination effort so far 💉 https://t.co/m3q1qXTmt3

— Nadhim Zahawi (@nadhimzahawi) January 27, 2021
Duncan Mason, 65, who works in nearby Dragon Hydraulics, said: "I got to work at about 12:30pm and the cordons were all the way round.
"My manager asked the police if we had to evacuate but they said we're alright. The conclusion we've drawn is if it was something big no one would be around this area at all.
"We're back onto the factory but we haven't been able to see anything happening this afternoon.
"I feel for the wagon drivers, it's been a nightmare for them, and some people haven't been able to go into work."
Earlier, Welsh First Minister Mark Drakeford tweeted: "We are working with local police and the military to find out more about this incident.
"Thank you to the security personnel who are on-site to protect lives and ensure the safety of our vaccine supply. This highlights the vital role they play in keeping us all safe. Diolch."
This is a really bad sign.

This "fill and finish" facility must become as protected as any important landmark or nuclear power plant.

It is absolutely critical to the U.K. #vaccine rollout and will be the subject of more of these scares. https://t.co/cf7SDLVRv4

— Tom Swarbrick (@TomSwarbrick1) January 27, 2021
Dave Picken, 53, who lives near industrial estate, said: "We've seen lots of police cars and a fire engine. Bomb disposal are here with a robot. We were closer to the factory but police told us to move and cordoned off a bigger area.
"I did ask an officer how big the bomb is but he said he couldn't say it's a bomb."
In an initial statement, the pharmaceutical firm said: "Wockhardt UK in Wrexham this morning received a suspicious package to site.
"All relevant authorities were immediately notified and engaged. Upon expert advice we have partially evacuated the site pending a full investigation.
"The safety of our employees and business continuity remain of paramount importance."
Last week, emergency teams were called out to protect supplies of the Oxford University and AstraZeneca coronavirus vaccine following flooding at the industrial estate.
All "necessary precautions" were taken to prevent disruption to the manufacture of the jab, a Wockhardt spokeswoman said at the time.
Listen & subscribe: Global Player | Apple Podcasts | Google Podcasts | Spotify