Climate Protesters Glue Themselves To Jeremy Corbyn's House
17 April 2019, 10:14 | Updated: 17 April 2019, 16:20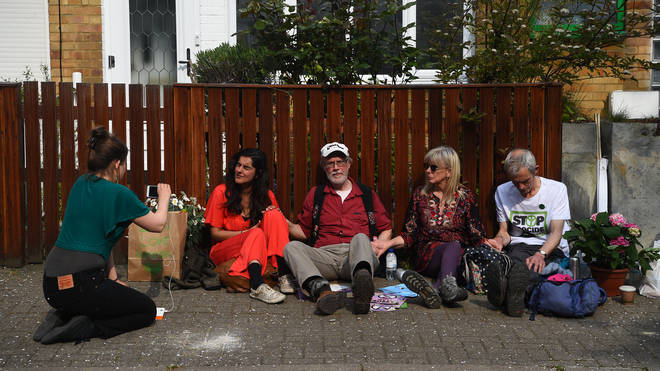 Four Extinction Rebellion protesters have glued themselves together outside Jeremy Corbyn's north London home.
The activists said they are "all Jeremy Corbyn supporters" but want the Labour Party to go further than declaring a "climate emergency".
It follows another day of protests in London which has seen more than 300 people arrested since Monday.
Social media videos have shown protesters being arrested at Oxford Circus and Waterloo Bridge.
Earlier, the DLR line was disrupted after protesters glued themselves and climbed on top of a train at Canary Wharf.
In the video one protester could be heard telling journalists that he is waiting for police to come along with a solvent to remove him.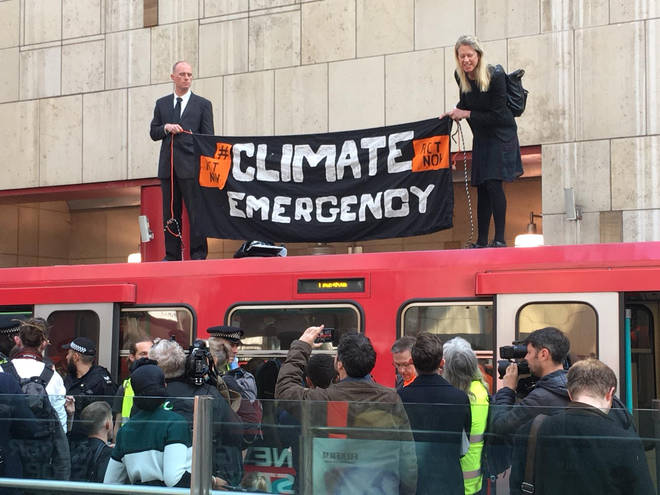 British Transport Police said they have taken the decision to restrict passenger Wi-Fi connectivity at Tube stations.
The action was taken in the interests of safety and to prevent and deter "serious disruption" to the London Underground network.
Yesterday, the Extinction Rebellion group requested Tube workers not intervene in the protests, in order to "ensure that they go as smoothly and safely as possible for all involved."
Protesters have threatened to glue themselves to Tube trains in a bid to shutdown the capital's transport network.
A Transport Police spokesperson said: "We apologise for any inconvenience this may cause and we would like to assure passengers that this decision is not taken lightly and will be reviewed throughout the day. The Force continues to work closely with Transport for London and the Metropolitan Police Service in keeping disruption to a minimum."