Prince Charles stays silent when asked what he thought of Harry and Meghan interview
9 March 2021, 11:53 | Updated: 9 March 2021, 18:07
The Prince of Wales was seen in public for the first time today on an outing to an NHS vaccine pop-up clinic in London where he was asked what he thought of Harry and Meghan's interview with Oprah.
He stayed silent when asked by members of the press what he thought of the sensational interview.
Charles's outing came hours after Harry and Meghan's interview with Oprah was aired to UK audiences. It was watched by millions of people around the world, including over 12m people when it was played on UK screens last night.
Read more: Royal Family 'saddened' and 'concerned' by Harry and Meghan interview revelations
Charles visited a church in north-west London to see a NHS pop-up vaccine clinic in action as the number to receive their first dose passed 22.5 million.
Shortly after, Buckingham Palace issued a statement in which they said they were "saddened" to hear of the bombshell revelations and will address concerns over racism "privately".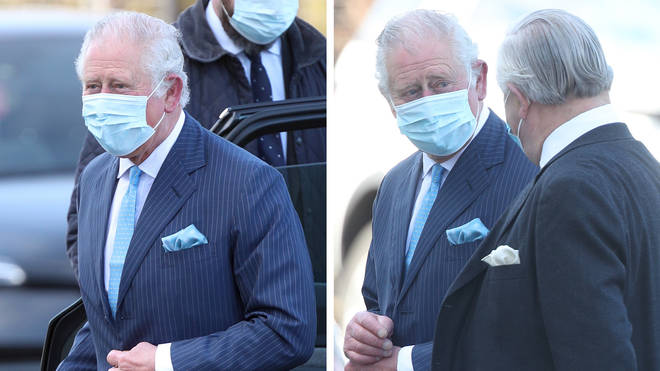 The interview was aired on Sunday night to US audiences, before being shown in the UK on Monday evening.
In the interview the heir to the throne was singled out for criticism by Harry, who said Charles had stopped returning his calls when he was trying to discuss stepping down as a working royal.
The duke also said about his father: "I feel really let down because he's been through something similar.
"He knows what pain feels like."
He added: "I will always love him, but there's a lot of hurt that's happened.
"And I will continue to make it one of my priorities to try and heal that relationship."
The most damning was the claim an unnamed member of the royal family was worried about how dark the skin tone of the Sussexes' son might be before he was born.
During the nearly two-hour broadcast, which was shown in the UK on Monday night, the couple claimed that a member of the family - not the Queen or Duke of Edinburgh - made the comment about their unborn son, Archie.
Meghan told Winfrey that one individual expressed concern about how dark the one-year-old's skin tone might be before he was born.
Among the other revelations, the duchess also told the interviewer that her time as a working royal had left her having suicidal thoughts and contemplating taking her own life, but her approaches to the monarchy for help were turned down.
And when Harry joined the chat, he revealed the royal pair were having a baby girl in the summer.
Other key revelations and points from the Oprah Winfrey interview on CBS include:
Harry felt "really let down" by his father Prince Charles
Rift between Harry and William continues and they're on "different paths"
Harry denied "blindsiding" the Queen when stepping down as royal
Meghan said sister-in-law Kate made her cry ahead of her wedding
Harry: Royal Family "cut me off financially" in first quarter of 2020
Meghan suggested Archie was not made a prince because of his race (although rules set by George V meant he was not entitled to be one)
Thomas Markle, the Duchess of Sussex's father, made a TV appearance today in which he said he was "disappointed" after seeing his daughter's interview with Oprah Winfrey.
He also said he didn't think the Royals or British people were racist.
Comments made in the interview by Meghan Markle have been supported by the White House and by Hillary Clinton.
Mrs Clinton said: "Their cruelty in going after Meghan was just outrageous and the fact she did not get more support, that the reaction was, you know, let's just paper it over and pretend that it didn't happen or it will go away, just keep your head down, well, you know, this young woman was not about to keep her head down, you know, this is 2021."
White House press secretary Jen Psaki praised Harry and Meghan's courage when asked if US president Joe Biden had watched the interview.
Ms Psaki told journalists on Monday: "For anyone to come forward and speak about their own struggles with mental health and tell their own personal story, that takes courage.
"That's certainly something the president believes."