'Tone deaf' and 'insensitive': Former Met chief blasts pro-Palestinian protests on Armistice Day
7 November 2023, 07:59 | Updated: 7 November 2023, 08:20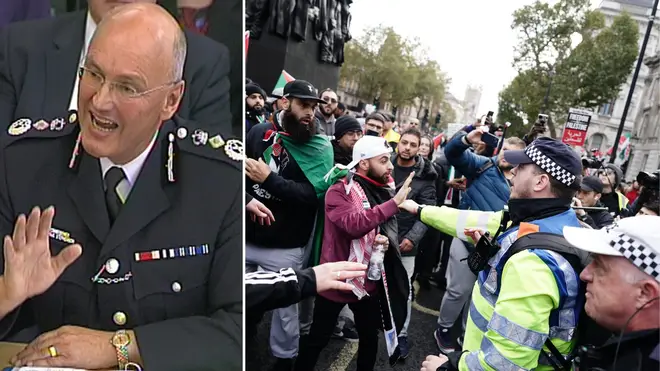 The former Metropolitan Police Commissioner has told LBC that Saturday's planned pro-Palestinian protest is "highly regrettable".
Sir Paul Stephenson, former Metropolitan Police Commissioner, said: "On this particular date, on this weekend, the organisers can't really be in any doubt about the significance of the date and the risks involved".
He added: "At the very least it would seem to be tone deaf and somewhat insensitive".
It comes after campaigners from the Palestine Solidarity Campaign (PSC) confirmed they plan to march on Armistice Day on Saturday.
The group's Director Ben Jamal has confirmed to LBC, however, that the group plan to "stay away from the Cenotaph" whilst avoiding "disrupting the commemorations".
The comments from the former Met Chief come after the force put out a statement yesterday evening which pleaded with organisers to "urgently reconsider" the protest, saying "it is not appropriate to hold any protests in London this weekend."
"Senior officers are concerned at criminal acts by breakaway groups intent on fuelling disorder who are attracted by these regular events," the Met added.
"This is despite the positive work of organisers who have supported tens of thousands of people to protest peacefully and lawfully."
Read more: Palestine activists vow to continue with Armistice day protests despite police pleas to postpone
Read more: British army veteran poppy seller 'punched' amid huge Palestine protests in train station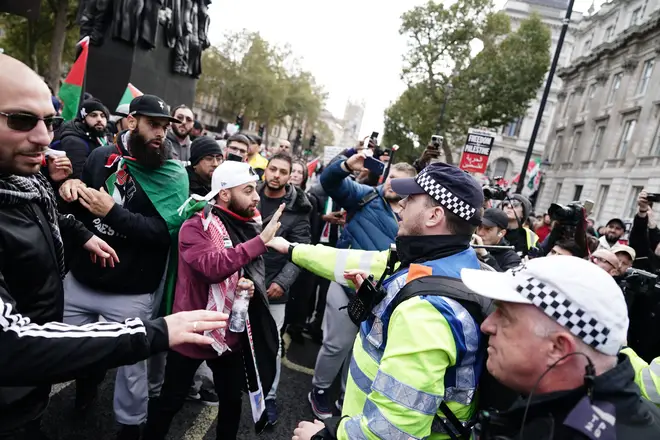 However demonstrators have rejected calls to postpone their rally, leading to calls for Commissioner Sir Mark Rowley to ban the march.
Sir Paul Stephenson told LBC: "The decision of the Commissioner to apply to the Home Secretary for a ban is a delicate and tricky one. It depends upon the information and intelligence available to him as to whether he believes that the risk of violence reaches the high bar under the legislation."
Since October 7th more than 160 people in London have been arrested at marches for a variety of reasons, whilst there has been a significant uptick in anti-Semitic incidents.
"Judgements will need to be made regarding the consequences of any ban and the need to police them," Sir Paul added.
"Whilst one would like to believe that the majority many comply with such a legal instruction, I very much doubt confidence will be high that this will be universally complied with.
"These judgements may go down to the wire, with responsible police leadership working hard to bring about an appeal for a common sense resolution.