Police make 28 arrests after thousands of Rangers fans celebrate title win
7 March 2021, 15:26 | Updated: 9 March 2021, 08:03
28 people were arrested and seven fined after thousands of Rangers fans gathered in huge crowds across Glasgow to celebrate their Scottish Premiership title win on Sunday, Police Scotland said.
"Many thousands" of fans gathered outside the club's Ibrox Stadium and at George Square, letting off smoke bombs and fireworks.
Police Scotland said their priority on Sunday was "reducing the risk of disorder, road safety and effective crowd management among the complexities of a vociferous crowd".
Despite pleas from politicians and police ahead of the win, officers appeared unable to stop the crowds gathering, with videos showing them looking on as supporters gathered.
Scottish First Minister Nicola Sturgeon labelled the situation "infuriating and disgraceful", adding that it was "deeply unfair" to those obeying lockdown restrictions and warning the actions could delay a reopening.
Read more: Wembley could be full for England v Czech Republic Euros game
I congratulate @RangersFC on the title win & recognise what a moment this is for fans. But gathering in crowds just now risks lives, and could delay exit from lockdown for everyone else. If those gathering care at all about the safety of others & the country, they will go home. https://t.co/MjzJJEhhsd

— Nicola Sturgeon (@NicolaSturgeon) March 7, 2021
It followed more chaotic party scenes on Saturday in anticipation of the Scottish Premiership title win, which was confirmed on Sunday after Celtic failed to win against Dundee United.
Scottish Chief Medical Officer Dr Gregor Smith told a Covid briefing on Monday: "I think there's a very real risk that we will see an uptick in infections as a result of some of the scenes over the weekend. It's entirely plausible."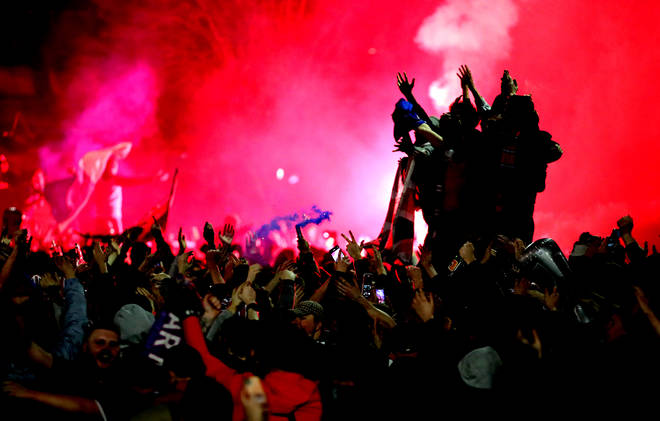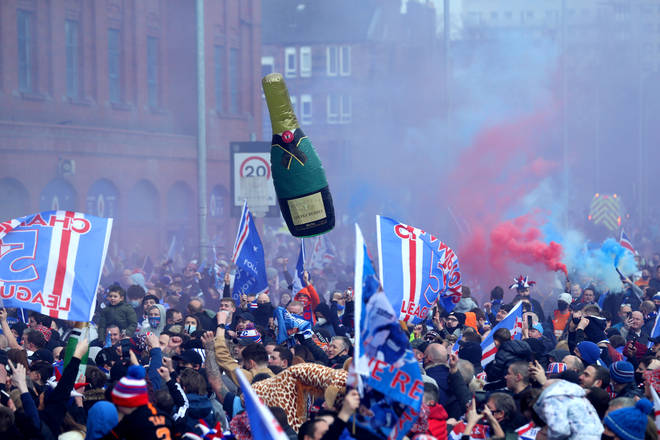 The Rangers leadership have come under intense criticism for not calling on fans to disperse, despite the risk to public health.
Deputy First Minister John Swinney has said the Scottish government will be making clear its "extreme disappointment" in a "lack of leadership" from the club.
"The government and Police Scotland reminded Rangers of the need for the club to remind fans to adhere to the current restrictions in discussions on February 26 and March 5," he said, adding: "It is a matter of profound regret that that did not happen."
Read more: Police drone footage shows dozens of people fleeing illegal lockdown party
I share folks' anger at this. Everyone has made so many sacrifices in the past year & seeing a minority risk our progress is infuriating & disgraceful. It is deeply unfair to the entire country, and the police have a hard enough job already. Please ask fans to go home @RangersFC https://t.co/haH5DAzhIh

— Nicola Sturgeon (@NicolaSturgeon) March 7, 2021
Chief Superintendent Mark Sutherland, divisional commander for Greater Glasgow, said: "Despite the coronavirus regulations and the prohibition of gatherings, our officers were faced with a very difficult set of circumstances as many thousands of supporters gathered to celebrate across a number of different venues.
"Our priority was public safety and this included reducing the risk of disorder, road safety and effective crowd management among the complexities of a vociferous crowd. This included established crowd control measures to prevent serious disorder in multiple areas and protect the public.
"An appropriate policing response was in place throughout the day and officers continually engaged and encouraged compliance with coronavirus regulations."
He said a number of minor injuries were sustained by members of the public, some through intoxication.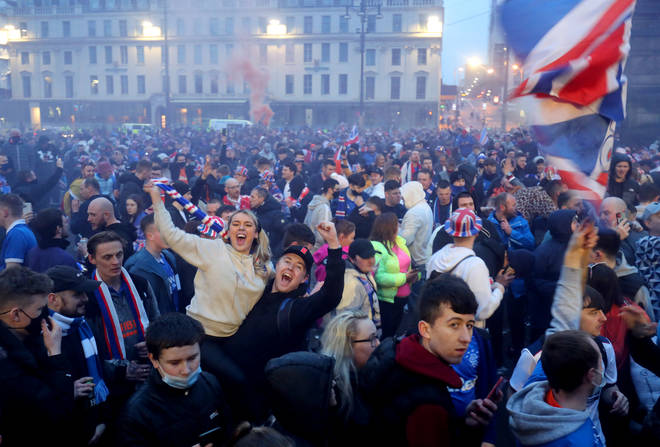 Speaking after the party scenes on Saturday, Scotland's Justice Minister Humza Yousaf told LBC: "The scenes are frankly unforgivable, we are in a very critical juncture in our fight against the pandemic.
"People have missed funerals, they have missed weddings, they haven't seen loved ones in care homes and there we have... a minority of fans who think it is acceptable of them to put their own lives at risk, to affect the health of their families, their friends, but also the wider community as well. It is unforgivable."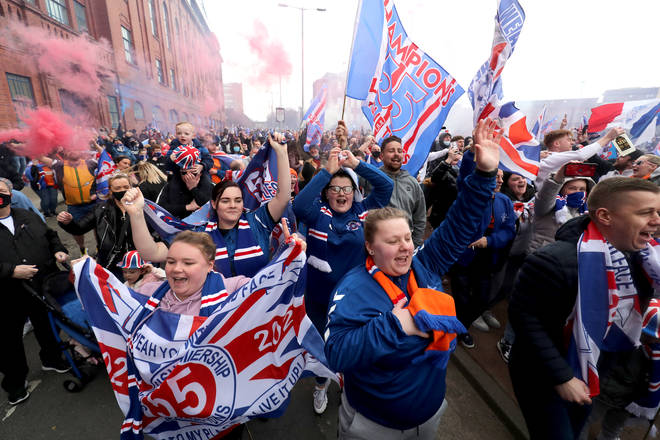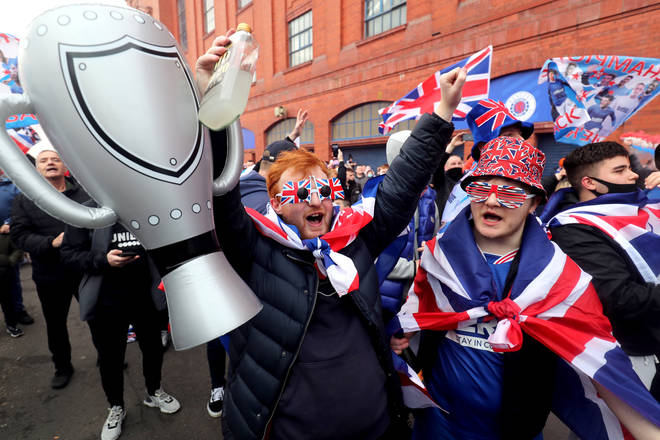 Mr Yousaf suggested the celebrations could lead to footballing body UEFA deciding not to go ahead with planned games in Scotland this summer, as part of the rescheduled Euro 2020 competition.
The justice minister tweeted on Sunday morning: "Our primary reason for asking fans to obey the stay at home message is for public health reasons. However, be in no doubt UEFA will also be paying close attention as the Euros are around the corner."
"When things return to normal I'm sure there will be an almighty party of all parties to celebrate what is likely to be a quite historic title victory, but until that moment you must respect the rules," he added.
Read more: English government planning to allow football fans to attend Euro 2021 games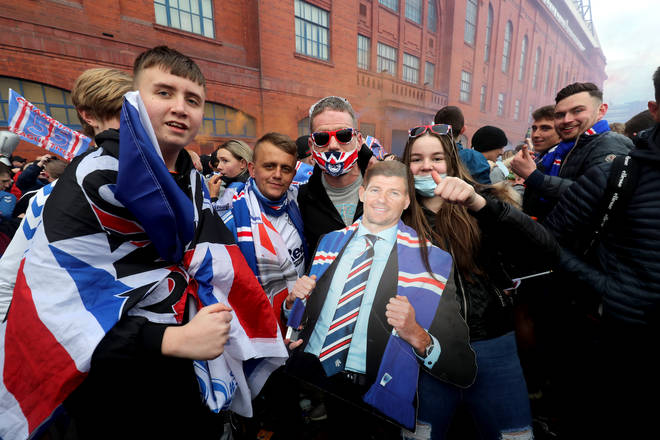 Even prior to the celebration there were suggestions that Glasgow and Dublin could be cut from the list of 12 venues for the Euros.
The Scottish and Irish governments are have yet to provide Uefa with assurances that fans will be allowed back into the stadiums, reports say, with the footballing body reportedly needing at least 30 percent capacity to turn a profit on the games.