Teacher suspended for 'showing pupils cartoon of Prophet Muhammad' in lesson
26 March 2021, 10:52
A school has apologised and suspended a teacher pending an investigation following an angry protest over an "inappropriate" cartoon of the Prophet Muhammad that was shown in a class.
Dozens of pupils and parents and a local religious scholar gathered outside Batley Grammar School in West Yorkshire on Thursday morning after it emerged the picture had been used as part of a religious studies lesson.
The demonstration outside the school gates delayed lessons until 10am, with a text sent out to parents apologising for the incident.
The group were filmed chanting "Allahu Akbar" - "God is Great" - and "get the headteacher".
In a statement, Headteacher Gary Kibble said: "The school unequivocally apologises for using a totally inappropriate resource in a recent religious studies lesson.
"The member of staff has also given their most sincere apologies.
"We have immediately withdrawn teaching on this part of the course and we are reviewing how we go forward with the support of all the communities represented in our school."
He added: "It is important for children to learn about faiths and beliefs, but this must be done in a sensitive way."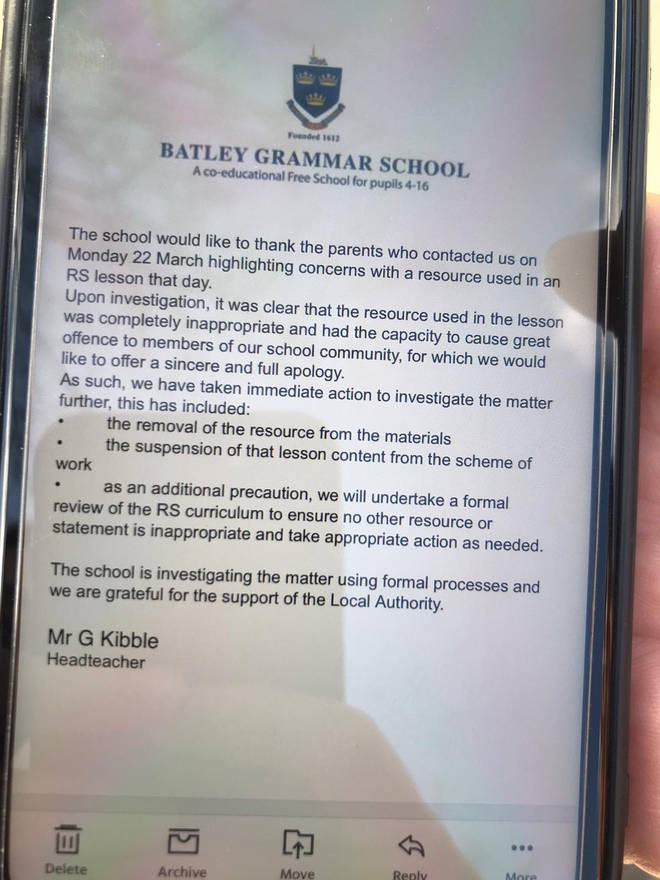 A spokesperson for the school later added: "The member of staff has been suspended pending an independent formal investigation.
"The school is working closely with the governing board and community leaders to help resolve this situation."
Mufti Mohammed Amin Pandor, a local prominent Muslim scholar who has been speaking with the school, told protesters: "What has happened in the school, we are appalled.
"Look at what we do as a community, and you'll understand our stance. What has happened is totally unacceptable and we have made sure that the school understands that.
As the protest went on into the afternoon and caused delays to traffic and bus routes, police moved in to try and break it up.
A West Yorkshire Police spokesperson said: "We are aware of a small demonstration at the school, which is still ongoing. Local neighbourhood officers are in attendance."
On Thursday evening, a Department for Education spokesperson said: "It is never acceptable to threaten or intimidate teachers. We encourage dialogue between parents and schools when issues emerge.
"However, the nature of protest we have seen, including issuing threats and in violation of coronavirus restrictions are completely unacceptable and must be brought to an end.
"Schools are free to include a full range of issues, ideas and materials in their curriculum, including where they are challenging or controversial, subject to their obligations to ensure political balance.
"They must balance this with the need to promote respect and tolerance between people of different faiths and beliefs, including in deciding which materials to use in the classroom."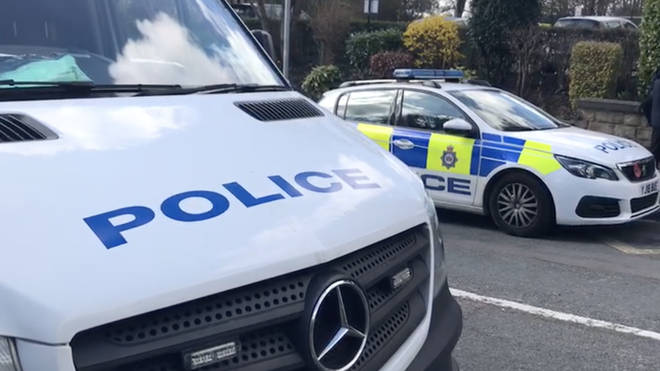 The Purpose of Life charity, which works closely with the school, said it is "deeply hurt" by the teacher's actions and called on the school to dismiss him, stating that it "cannot work with or promote" the school until it does.
"We took great pleasure in working with Batley Grammar School, helping the local children and we hope can continue this beautiful relationship," founder Mohammad Sajad Hussain wrote in a letter to the headteacher."
The letter called for the teacher to be removed from the school, adding until he was "permanently removed from Batley Grammar School, we cannot work with or promote Batley Grammar School.
"Whilst the school has issued an unreserved apology, for Muslims, this does not go far enough."