Sir Keir Starmer calls for 'humanitarian pause' in Gaza and ceasefire 'is not the correct decision'
31 October 2023, 11:34 | Updated: 31 October 2023, 14:18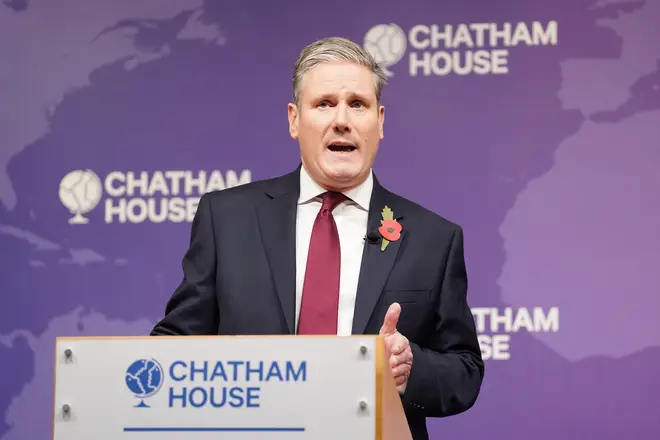 Sir Keir Starmer has defended Labour's refusal to call for a ceasefire in the Israel-Hamas conflict during a speech in London
Sir Keir wants a humanitarian pause to allow Palestinians to flee the fighting, and for aid to be distributed in Gaza.
He said Hamas would be "emboldened" by a ceasefire and start preparing for future violence immediately.
Sir Keir said: "While I understand calls for a ceasefire at this stage, I do not believe that it is the correct position now for two reasons.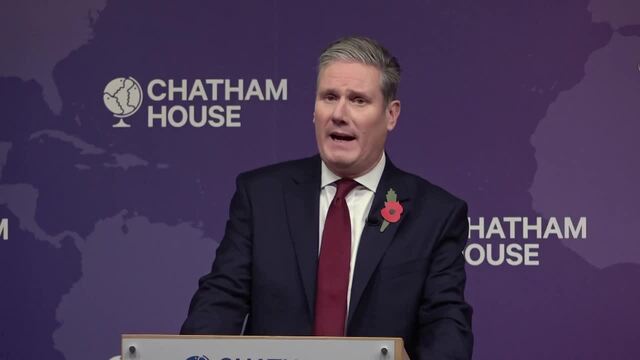 Permanent ceasefire could currently risk more violence, says Sir Keir Starmer
"One, because a ceasefire always freezes any conflict in the state where it currently lies. And as we speak, that would leave Hamas with the infrastructure and the capabilities to carry out the sort of attack we saw on October 7.
Read more: 'After 9/11 nobody told the US to sit down with Bin Laden': Minister dismisses calls for Gaza ceasefire
Read more: Anger as police in Manchester pull down posters of Israeli hostages - after Met slammed for removing flyers of children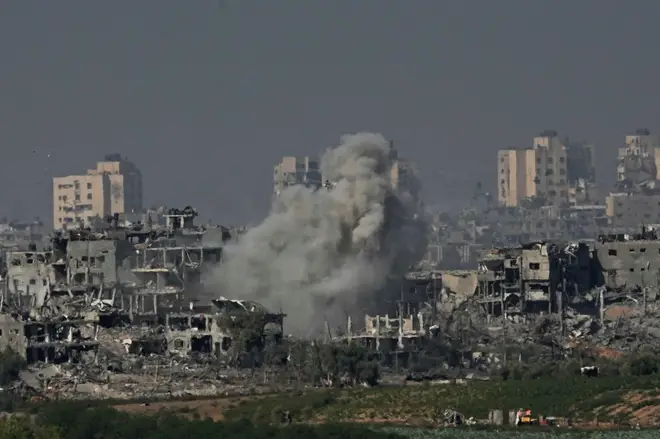 "Attacks that are still ongoing. Hostages who should be released still held.
"Hamas would be emboldened and start preparing for future violence immediately."
He said a humanitarian pause is the "only credible approach" to the conflict in Gaza.
"It is this context which explains my second reason, which is that our current calls for pauses in the fighting, for clear and specific humanitarian purposes and which must start immediately, is right in practice as well as principle.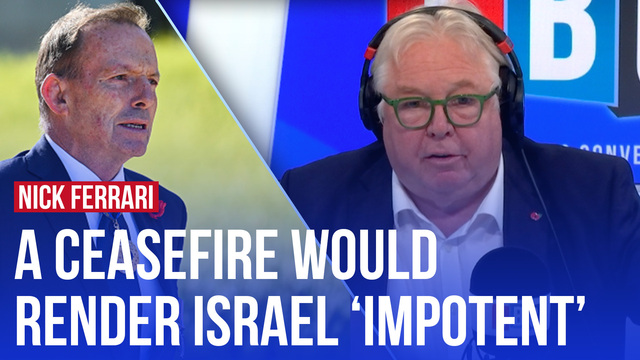 Ex-Australian PM Tony Abbott on Israel's right to 'destroy Hamas'
"In fact it is at this moment, the only credible approach that has any chance of achieve what we all want to see in Gaza, the urgent alleviation of Palestinian suffering.
"Aid distributed quickly. Space to get hostages out.
"And it why it is also a position shared by our major allies in the US and the EU."
"We must move to cessation of fighting as quickly as possible" because the solution to the conflict in the Middle East cannot be delivered by "bombs and bullets", he added.
The Labour leader is continuing to resist backing calls for a ceasefire but said "open-ended" military action is "ultimately futile".
He said: "Over time, the facts on the ground will inevitably change in relation to both hostages being rescued and Hamas's capability to carry out attacks like we saw on October 7, and we must move to cessation of fighting as quickly as possible.
"Because the reality is that neither the long-term security of Israel nor long-term justice for Palestine can be delivered by bombs and bullets.
"Open-ended military action, action without a clear and desired political outcome, is ultimately futile. This needs to begin now, because a political agreement, however unlikely thats seems today, however painful the first steps are to take is the only way to resolve this conflict once and for all."
He said Hamas's plan was "not just to kill Jews" but to "bring death upon their fellow Muslims in Gaza".
"A plan written in blood to isolate Israel from the West, destroy its improving relations with other Arab nations, and ultimately provoke wider regional conflicts across the Middle East," he said.
"That threat remains real, and I echo President Biden's sage advice to Israel to understand in its own interests why a whirlwind of understandable emotion and rage must not blind it to the fact that it is Hamas it must target, Hamas that is the enemy, Hamas brutality that must be prevented, and not the Palestinian people who must be protected."
Israeli ground forces attacked Hamas militants and infrastructure today in northern Gaza as the military said about 800,000 people have fled the area since the war began more than three weeks ago.
Buoyed by the first successful rescue of a captive held by Hamas, Prime Minister Benjamin Netanyahu has rejected calls for a ceasefire and again vowed to crush the militant group's ability to govern Gaza or threaten Israel following its bloody October 7 rampage, which ignited the war.
The military said one of the estimated 240 captives seized by Palestinian militants during the wide-ranging assault was rescued in a special forces operation, lending support to Mr Netanyahu's contention that the ground war will help facilitate the recovery of more hostages rather than putting them in increased danger.