Brownlee's Great Sportsmanship To Help Brother
19 September 2016, 11:39 | Updated: 19 September 2016, 11:49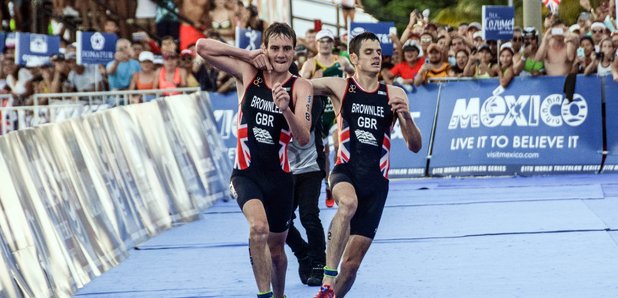 This is the wonderful moment Alistair Brownlee gave up his chance of winning to help his brother over the finishing line as he was close to collapsing.
Sportsmanship at it's best.
Brothers in arms. @AliBrownleetri @jonny_brownleehttps://t.co/oxrrIlGR4Ypic.twitter.com/6krysvi11l

— Team GB (@TeamGB) September 19, 2016
Jonny, the younger of the Olympic medallist brothers, was leading the Triathlon World Series race in Mexico.

But with just a few hundred metres to go, he started weaving over the course as he felt the effects of dehydration.

Alastair, who won gold at the Rio Olympics, came up behind in second and stopped to help his brother, letting South African Henri Schoeman overtake him.

He then propped up Jonny and hauled him to the finish line.

Jonny collapsed as he crossed the finish line, but tweeted later to say he was feeling better.
Not how I wanted to end the season, but gave it everything. Thanks @AliBrownleetri, your loyalty is incredible pic.twitter.com/6uG4QiIgfS

— Jonathan Brownlee (@jonny_brownlee) September 19, 2016
Afterwards, Alistair said it was a human reaction to stop, adding: "I wish the flipping idiot had paced it right and crossed the finish line first."