Storm Ciara: Heavy rain and 90mph winds batter Britain
9 February 2020, 20:21 | Updated: 9 February 2020, 20:26
Storm Ciara is sweeping across the UK, bringing heavy rain and severe gales and causing widespread disruption.
Dozens of domestic and international flights have been cancelled and train passengers have been warned not to travel as the storm hits the country.
Heavy rain and winds of more than 90 miles per hour swept the UK, with weather warnings in place across the country.
Thousands of homes across the country have been left without power, with 29,000 without electricity across the east, 2,000 in the south east and 1,500 near Penrith.
The Met Office has an amber warning for wind in place for much of England and Wales until 9pm.
A major incident was declared in Lancashire due to the volume of incidents across the county, according to Chief Fire Officer Justin Johnston, who added: "Please do not travel unless absolutely necessary."
Three people were injured after part of a pub roof collapsed in Perth on Saturday evening and Bedfordshire police said emergency services were called to Flitwick on Sunday after a tree fell onto a car.
Essex Fire Service were called to more than 50 weather-related incidents, including making the area around the Cliffs Pavillion Theatre in Southend safe because a large section of roof is hanging off the edge of the building after it was blown off overnight.
They also attended a partial roof collapse at a house in Braintree, and calls to fallen trees, including a 40 foot tree collapsing onto a house in Finchingfield taking down a power line in the process.
Yellow weather warnings cover the whole UK with the heaviest rain expected over high ground, where 50-70mm is expected widely with as much as 100mm in a few locations.
The yellow warnings for wind, snow and ice continue until Wednesday for some parts of the country.
Gusts of 93 miles per hour were recorded in Aberdaron, a village at the tip of the Llyn Peninsula, in north Wales, while Cumbria saw 151.8mm of rain in 24 hours.
The town of Appleby-in-Westmorland in the county was hit by severe flooding as the River Eden burst its banks, with residents battling to protect their homes.
Cumbria Fire and Rescue Service urged people not to drive through floodwater after they rescued a number of motorists.
Rail companies in England, Scotland and Wales have urged passengers not to travel and say they will operate reduced timetables and speed restrictions on Sunday.
Firms including Southern, Southeastern and Great Northern have advised the public not to travel, while most other lines are also affected by speed restrictions.
The main entrance of East Croydon station was closed after the glass roof of the tram stop outside was blown in by strong gusts of wind.
Strong winds have the potential to damage overhead electrical wires and tracks due to debris or falling trees.
A trampoline blown onto tracks by strong winds in Chelsfield, south London, has disrupted rail services from the South East to the capital.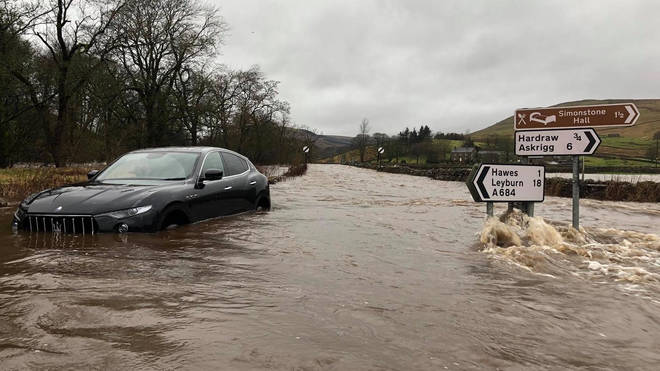 "We are working to remove it but will need further staff to assist given its size," tweeted Network Rail Kent and Sussex on Sunday morning.
Southeastern said the trampoline means trains cannot run from Sevenoaks towards Orpington and services may be diverted via Bat & Ball.
Heathrow Airport said it had agreed with its airline partners to "consolidate" Sunday's flight schedule in a bid to minimise the number of cancelled flights.
British Airways said in a statement: "Like all airlines operating into and out of the UK tomorrow, we are expecting to be impacted by the adverse weather conditions across parts of the UK on Sunday."
The airline said it was offering rebooking options for customers on domestic and European flights flying to and from Heathrow, Gatwick and London City on Sunday.
Virgin Atlantic has posted a list of cancelled flights on its website. It said it was "contacting affected customers and rearranging their travel arrangements".
Storm Ciara was named by the Met Office on Wednesday and is moving eastwards across the UK and Ireland.
Alex Burkill, a meteorologist at the Met Office, said the wet and windy weather is "the prelude, if you will, to what is Storm Ciara".
He said the most pressing of the Met Office warnings is the amber wind warning.
"That's where we're likely to see significant impacts from the wind. We're taking some damage to property, flying debris, and that could bring the risk of injury to people, as well as just the usual things such as power outages and disruption to travel," he said.
"It is worth bearing in mind that the strong winds on Sunday are going to be very widespread so it's across the whole of the UK where we're going to see very strong winds, so the impact will be widespread."
Mr Burkill said gusts of 70-80mph were expected, "and it could be a little bit stronger than that in some exposed spots".
The Environment Agency has issued 22 flood warnings, meaning flooding is expected and immediate action is required, and 149 alerts, indicating flooding is possible.
Humberside Police said the Humber Bridge was closed to high-sided vehicles.