Storm Debi sparks travel chaos across UK as 80mph winds force British Airways to cancel 50 flights
13 November 2023, 20:58 | Updated: 13 November 2023, 22:45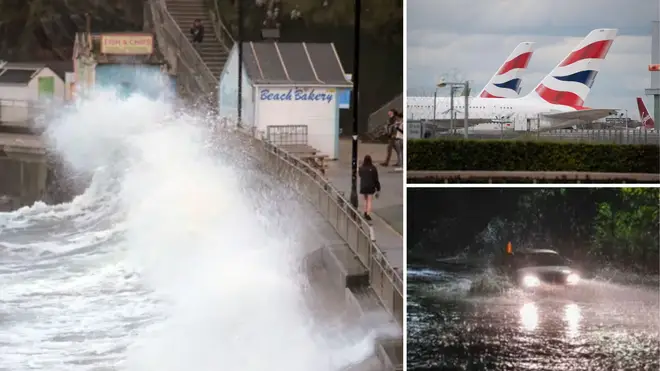 Storm Debi arrived in the UK and Ireland with 80mph winds on Monday - throwing people into travel chaos as trains were delayed while British Airways cancelled dozens of flights.
BA cancelled some 50 flights from London Heathrow earlier today after winds of up to 77mph battered Northern Ireland, northwest Wales and the north of England.
The airline said it had to make a "small number of cancellations" on Monday. "We've apologised to our customers for the disruption to their travel plans and our teams are working hard to get them on their way as quickly as possible," a spokesperson added.
The powerful winds brought down trees onto tracks and damaged overhead lines, forcing rail companies to delay and cancel trains.
Network Rail Scotland said speed limits were put in place due to the weather as travel was cancelled on the lines between Dumfries and Sanquhar due to flooding.
A restriction was also in place on the West Highland line between Garelochhead and Crianlarich.
The Met Office issued an amber weather warning in northwest England for Monday amid the chaos of weather - warning that buildings could be damaged and travel disruption likely.
On the island of Ireland, 100,000 homes and businesses were left without electricity following power cuts.
A postal worker in County Limerick was also hit by debris amid the weather. The worker was not badly hurt.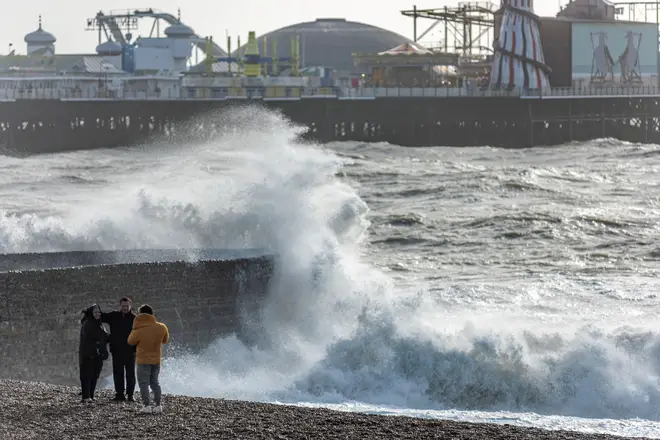 Read More: Exact date snow storm forecast as temperatures set to drop to -6C
Read More: Storm Debi hits the UK: Weather warnings in place with heavy rain and 80mph winds on the way
Winds of 77mph were recorded in Gwynedd, while gusts in Killeen in Northern Ireland reached 74mph - caused by a low-pressure system moving across the Irish Sea.
High-speed winds were expected across the west coast throughout the rest of this evening, before heading for the North Sea.
Those living near the sea were warned to stay away from the waterfront as huge waves were spotted being thrown onto the shore in Blackpool.
Elsewhere, flooding is also expected across England in Yorkshire, the Midlands, Norfolk, Sussex and the southeast.
It comes as the Met Office also issued a yellow weather warning for tomorrow for expected thunderstorms. The warning will be in place between 5am and 12pm tomorrow - covering the south of England between London and Cornwall.
Earlier today, in a post on social media platform X, Network Rail said: "Storm Debi isn't expected to impact our network as much as recent storms but the high winds & heavy rain do mean that we need to limit train speeds on a few sections of track from 17:00 today until 08:00 tomorrow on several sections of track between Montrose & Portlethen and also between Huntly and Insch.
"Additionally, a speed restriction is already in place on the West Highland Line until 08:30 tomorrow between Garelochhead and Crianlarich.'
Matthew Lehnert, chef meteorologist said: 'Storm Debi has developed rapidly overnight and will bring impacts across parts of the UK today.
'Because of the particular risk of impacts to parts of County Armagh and County Down this morning and parts of north-west England through much of the day we have issued two amber wind warnings.'