Sylvester Stallone leads tributes after Rocky star Burt Young dies aged 83
19 October 2023, 14:28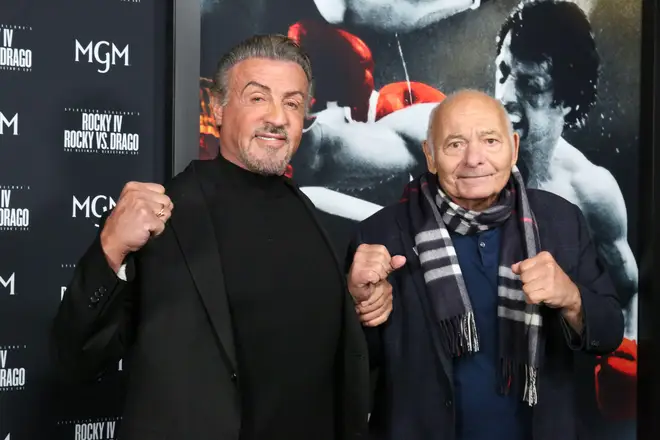 Hollywood star Sylvester Stallone posted a heartfelt picture and led tributes to his 'dear friend' Burt Young who has died aged 83.
Burt Young's daughter Anne Marie Steingieser revealed the actor passed away on 8th October in Los Angeles.
Best known for playing the role of Rocky Balboa's best friend and later brother-in-law Paulie Pennino, Burt Young played the role in six of the Rocky movies.
His performance in the first movie earned him a nomination for the Academy Award for Best Supporting Actor in 1976.
Stallone posted a tribute of a black and white picture of them both on set to his Instagram account.
In the caption, he wrote: "To my Dear Friend, BURT YOUNG, you were an incredible man and artist, I and the World will miss you very much…RIP"
The tribute was inundated with messages of heartfelt condolences and remembrance.
One person recalled meeting the actor: "This is such sad news. I had the great honor of meeting him briefly here in Philly, he was the kindest man. Rest in peace, Burt. My kids and I will always cherish the joy you brought to our lives".
"Oh my gosh I just found out. I'm sorry to hear to this. It's so sad. Rest In Peace Burt", one person shared.
Another commenter recalled his impact on the Rocky franchise: "Needless to say, He was a big part of making the Rocky movies greater than they are bc of the heartfelt character Burt played in the films!"
"Heartbreaking indeed and he will be missed but never forgotten."
Read more: Sylvester Stallone's wife seeks divorce after 25 years of marriage
Read more: Jackie Stallone: Sylvester Stallone's mother dies aged 98
Born Gerald Tommaso DeLouise in New York City in 1940, Burt Young was known for playing gritty Italian-American characters. He served in the United States Marine Corps from 1957 to 1959, where he boxed regularly.
He was also a painter whose works were shown in galleries worldwide.