Taxpayers to shell out at least £222,000 for Boris Johnson's Partygate legal fees
26 January 2023, 15:51 | Updated: 26 January 2023, 15:53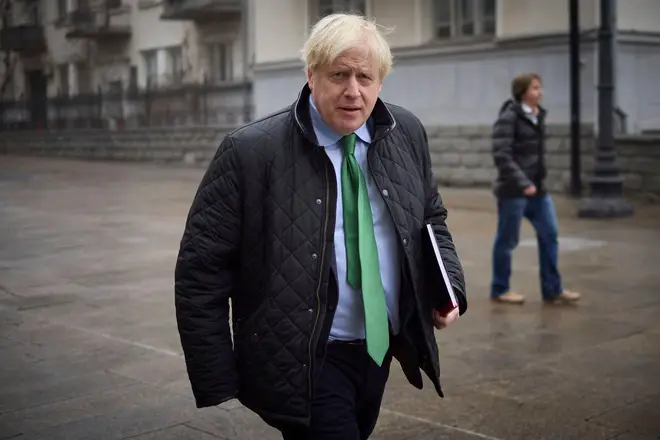 Taxpayers will be forced to cough up at least £222,000 for legal fees to help Boris Johnson defend himself against allegations he misled Parliament over partygate, MPs have heard.
Solicitors firm Peters and Peters was awarded a contract worth £129,700 in August 2021 to provide Mr Johnson with advice during the investigation into his conduct by the House of Commons Privileges Committee.
At a meeting of the Commons Public Administration and Constitutional Affairs Committee (PACAC) on Thursday, Cabinet Office permanent secretary Alex Chisholm revealed that the amount had since increased to £222,000, due to the length of the Privileges Committee inquiry.
But he admitted it was not a limit and could increase again depending on how long the inquiry takes.
Read more: Trans double rapist will be moved out of Scotland's all-women jail, Nicola Sturgeon says
Read more: Nadhim Zahawi did not make 'innocent error' with his tax, HMRC chief tells MPs
He said: "At the moment we have estimated that it would be up to a figure of £200,000, which has been published - £222,000 to be precise.
"We hope and expect that will be a maximum figure but obviously we don't want to anticipate and certainly could not regulate the conduct of the committee, which is entirely up to them."
Responding to the news, Liberal Democrat chief whip Wendy Chamberlain called for taxpayer support for Mr Johnson's legal fees to end.
She said: "While the British people battle with a cost-of-living crisis, this Conservative Government seems more interested in helping Boris Johnson with his cost-of-lying crisis. This is a sleazy new low for this Government, dragging politics into the gutter.
"People will be outraged that hundreds of thousands of pounds of their money will be used to defend a lying lawbreaker who disgraced the office of prime minister.
"Rishi Sunak needs to step in immediately, stop this fund and apologise for his Government's chaotic track record of defending the indefensible."
The Privileges Committee is investigating whether the former prime minister committed contempt of Parliament by telling the Commons on several occasions that there were no lockdown-breaking parties in Downing Street.
The contract with Peters and Peters has already paid for legal advice from leading KC Lord Pannick, who has produced two opinions on the inquiry.
The first was published on the Government's website in September 2021 and claimed the Privileges Committee was adopting an "unfair procedure" and a "fundamentally flawed" approach.
This opinion was rejected by the Privileges Committee, which said it was based on "a systemic misunderstanding of the parliamentary process and misplaced analogies with the criminal law".
Questioned by the PACAC on Thursday, Cabinet Office minister Oliver Dowden admitted it was unusual for such opinions to be published, but said it had happened before.
Mr Chisholm told the committee it was "normal" for the Government to pay the legal fees of former ministers when an inquiry related to their ministerial conduct, and the contract with Peters and Peters had received "very full scrutiny from all the relevant people".
Lord Pannick's second opinion has not been published, but Mr Dowden was unable to say why as he had not been a minister at the time.