Tesco Defends Muslim Family In Christmas Advert After Racist Backlash And Boycott
11 November 2017, 09:54 | Updated: 12 November 2017, 09:50
The supermarket has responded to an outpouring of racist abuse after featuring a Muslim family in a Christmas advert.
Supermarket Tesco has defended featuring a Muslim family in one of its Christmas adverts following an Islamophobic backlash.
The television advert follows a diverse series of families, from a same-sex couple to a Muslim family.
Each is shown preparing a turkey, playing games and pulling crackers. One scene shows a Muslim family greeting each other with gifts as they arrive at someone's house.
The clip provoked a response characterised by religious prejudice. Some called it "very wrong", others promised to boycott the supermarket.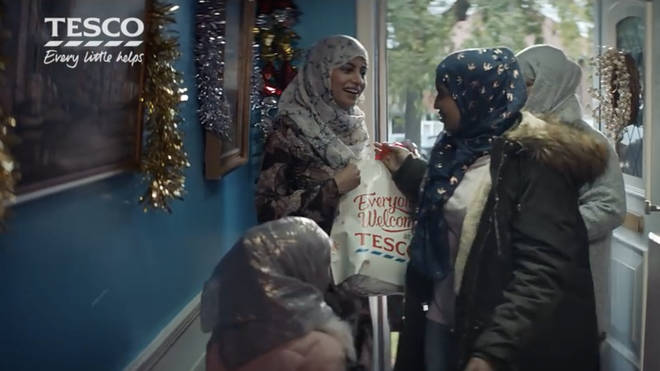 One user wrote: "Christmas advert is offensive. Halal meat/Muslims who don't celebrate Christmas. How dare you. I'm a devout Christian and I'm very offended."
Another tweeted: "@Tesco why are you showing Muslims celebrating Christmas in your advert that's just wrong, we all know they don't !!!"
And one promised a boycott: "Note to self - boycott Tesco re Christmas advert."
ohhh dear Tesco....'Everyone's welcome at Tesco except Christians' Yet ANOTHER 'politically correct' Christmas advert. How about just 1 bloody time you PANDER TO THE MAJORITY.

— Bedazzled (@vajazzle01) November 8, 2017
Dear Tesco. Poxy Muslim appeasement on your advert. I never shop in your crappy stores and wouldn't give you a penny of my money. But l do use your car park for free because l loathe you so much. 🖕

— atticvs (@atticvs) November 10, 2017
@Tesco why is there Muslims in your new Christmas advert? A Christian holiday.

— Ryan Hill (@ryanhillier44) November 7, 2017
I'm so offended by @Tesco Christmas advert showing contempt for Christianity I'm no longer shopping there. I'm cutting up my points card too!

— Sue McDonald (@suemcdonald342) November 10, 2017
Tesco said the advert shows how people "come together at Christmas."
"Everyone is welcome at Tesco this Christmas and we're proud to celebrate the many ways our customers come together over the festive season." 
The supermarket added that the Christmas campaign "will celebrate the many ways we come together at Christmas, and how food sits at the heart of it all".
Maajid Nawaz railed against the complaints.
He said: "The only conclusion I can come to is that this is driven, and fuelled, by a rising anti-Muslim sentiment that wants no Muslim presence in this country and will take any opportunity to decry and bemoan a semblance of a Muslim presence in this country.
"Your real agenda here is you just want a white, nativist, non-Muslim Britain. You want to hark back to that nostalgic sense you have of a country before immigration.
"That's the only conclusion I can come to because you're not happy either way.
"If Muslims refuse to integrate you complain. If Muslims integrate you complain. That tells me there's an axe to grind and you're grinding it."
Watch the advert at the top of this page.