Tory MP Paul Bristow told to leave government post after urging Rishi Sunak to back permanent Gaza ceasefire
30 October 2023, 17:04 | Updated: 30 October 2023, 18:06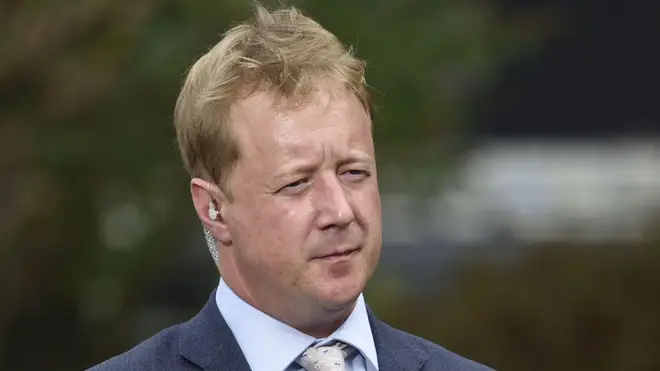 Tory MP Paul Bristow has been told to leave his Government job after urging Rishi Sunak to back a permanent ceasefire in Gaza.
The ministerial aide at the Department for Science, Innovation and Technology wrote to the Prime Minister saying it would save lives.
He said that Palestinian civilians are facing a "collective punishment" as a result of Israel's siege and airstrikes campaign in the wake of Hamas's bloodshed.
Downing Street said that the MP for Peterborough has been asked to leave his job as a parliamentary private secretary for breaking rank.
A spokeswoman said: "Paul Bristow has been asked to leave his post in Government following comments that were not consistent with the principles of collective responsibility."
Read more: 'Beheaded by Hamas': Heartbreak for Shani Louk's family as Israeli president reveals part of her skull has been found
Read more: Sunak calls emergency Cobra meeting to address 'accelerating' terror threat in UK amid Israel-Hamas conflict
Mr Bristow's letter, which was dated Thursday, appears to have been deleted from his website but remains on Facebook. He wrote that he is "deeply grieved by the heart-breaking and devastating humanitarian crisis" unfolding in Gaza, having spoken with constituents and met with the Peterborough Joint Mosques Council.
The MP said he welcomed Mr Sunak calling for what he has termed "specific pauses" in the fighting to allow humanitarian aid to enter Gaza, home to more than two million people.
But Mr Bristow added: "A permanent ceasefire would save lives and allow for a continued column of humanitarian aid (to) reach the people who need it the most.
"The brutal Hamas attacks against innocent civilians are unforgivable.
"Hostages need to be released.
"It is challenging to understand how the present strategy of bombing Gaza will lead to the release of hostages."
He accompanied an image of the letter on social media saying that Palestinians should not "suffer collective punishment for the crimes of Hamas" - action which could be deemed a war crime.
Responding to No10's decision to fire him, Mr Bristow told The Sun: "It was absolutely the right decision for the PM to fire me - I obviously regret being sacked.
"But I have many thousands of constituents who feel very strongly about this issue and feel I can better represent their views from the backbenches than the government payroll."