'Devastated' Travis Scott breaks silence on Astroworld tragedy where 10 people crushed to death
16 November 2023, 13:05
Rapper Travis Scott has broken his silence on the 2021 Astroworld tragedy, stating that he is "overly devastated" by the deaths of his fans.
10 people died and hundreds more were injured at the festival, which was run annually by Scott, in Houston Texas, until the accident.
In his first interview discussing the tragedy, the rapper told GQ magazine: "I was just overly devastated.
"I always think about it. Those fans were like my family. You know, I love my fans to the utmost."
"You just feel for those people. And their families."
The tragedy occurred on November 5, 2021, when the over-capacity crowd surged forward during Scott's headline show.
The victims, aged between nine and 27, died of compressive asphyxiation.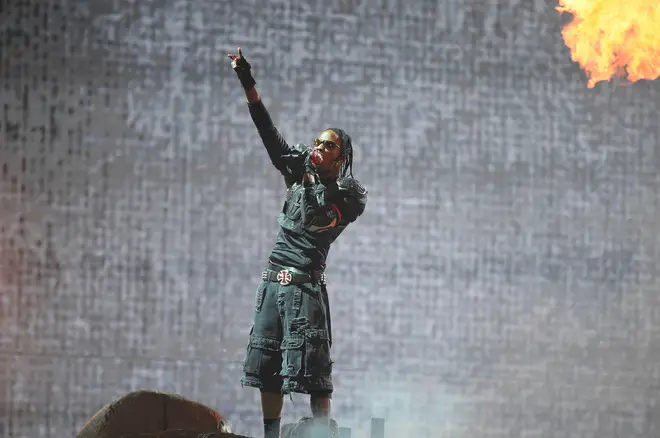 The incident was shrouded in controversy, as some audience members accused the rapper of continuing to perform, despite being aware that people were being crushed.
The Houston Fire Department said that Scott should have stopped the show much earlier than he did.
However, Scott maintains that he was not made aware of the severity of the situation until after he left the stage.
Read more: Rapper Travis Scott questioned over deadly crowd surge at Texas festival
Read more: Travis Scott will not face criminal charges over Astroworld crowd surge – lawyer
In the GQ interview, Scott confirmed that a track on his new album, My Eyes, contains references to the deaths.
Towards the end of the song, he raps: "I replay them nights, and right by my side, all I see is a sea of people that ride wit' me. If they just knew what Scotty would do to jump off the stage and save him a child."
Scott told GQ: "The song is emotional... and that verse means a lot to me."
Earlier this year, a jury decided against indicting Scott on any charges relating to the incident.
However, a report released by Houston police stated that festival workers had highlighted concerns before the event that death could occur.