Two women charged under Terrorism Act after attending Palestine protest with paraglider signs as police hunt two more
3 November 2023, 17:31 | Updated: 3 November 2023, 18:01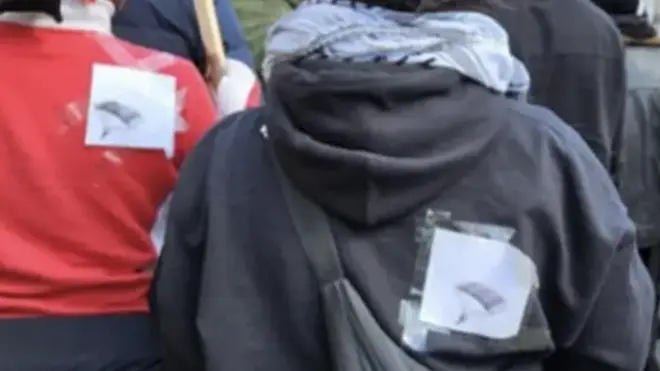 Two women have been charged under the Terrorism Act after images of paragliders were displayed at a pro-Palestine march in central London.
Heba Alhayey, 29, and Pauline Ankunda, 26, were charged in relation to images of paragliders they are said to have been wearing at the demonstration.
They are both accused of a single count of carrying or displaying an article to arouse reasonable suspicion that they are supporters of banned organisation Hamas.
The group used paragliders to enter Israel from Gaza on October 7 before killing more than 1,000 Israelis.
The women have both been bailed before they appear at Westminster Magistrates' Court on November 10.
It comes as police are hunting two more people - a woman described as black, wearing a red coat and with a dark scarf containing a flower pattern and, as part of a separate investigation, a man seen waving a placard with the words "I fully support Hamas".
Read more: Sickening poster at the Cenotaph: Met investigation as calls grow to stop protesters targeting 'sacred' Remembrance Day
Read more: Cenotaph at risk: Rishi Sunak warns pro-Palestine protests on Armistice Day would be 'provocative and disrespectful'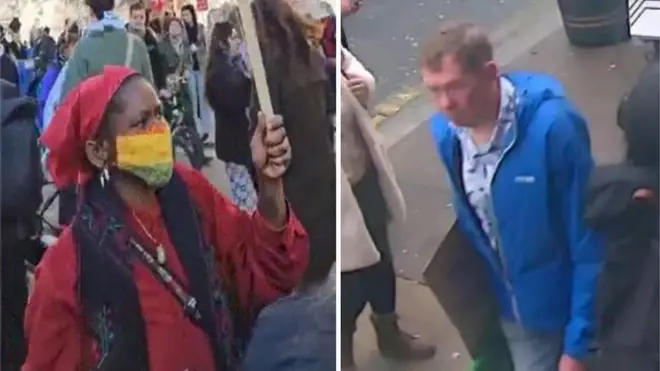 Nick Price, head of the CPS special crime and counter terrorism division, said: "Following a review of evidence provided by the Metropolitan Police, we have authorised charges against two women who took part in a demonstration in central London last month.
"Heba Alhayey, 29, and Pauline Ankunda, 26, have been charged with single counts of carrying or displaying an article, namely an image displaying a paraglider, to arouse reasonable suspicion that they are supporters of a proscribed organisation, namely Hamas, on Saturday, October 14 2023.
"The pair have been bailed to appear before Westminster Magistrates' Court on Friday, November 10 2023.
"Criminal proceedings against the two women are active and they each have the right to a fair trial.
"It is extremely important that there should be no reporting, commentary or sharing of information online which could in any way prejudice these proceedings.
"The function of the CPS is not to decide whether a person is guilty of a criminal offence, but to make fair, independent and objective assessments about whether it is appropriate to present charges for a criminal court to consider."
Commander Dominic Murphy, head of the Met's Counter Terrorism Command, said: "We have worked swiftly and decisively to investigate this matter and that has led to these two women being charged with terrorism offences only a week after issuing our public appeal.
"We know that the public are very concerned about some people using the veil of legitimate protest to carry out criminal or even terrorist activity and we have shown that we will do everything we can to identify where that happens and that we will seek to bring those who may be responsible to face justice."