Rishi Sunak 'rides to the rescue' of takeaway pints as he makes u-turn on major pub law change
14 August 2023, 07:59 | Updated: 14 August 2023, 11:26
Pub-going Brits will be relieved to hear that Prime Minister Rishi Sunak has announced the continuation of pandemic-era allowances for takeaway pints sold from designated windows and doors of licensed establishments.
The Government has opted to retain pandemic-era licensing rules, allowing pubs in England and Wales to continue selling takeaway pints.
These rules, brought in during the pandemic, let businesses serve customers through hatches when lockdowns were enforced in 2020 to curb the spread of Covid-19.
As we reported the scheme was originally set to expire in September, but now Rishi Sunak has personally stepped in and decided to save takeaway pints.
The Prime Minister said: "I've heard the British pub industry loud and clear — takeaway pints are a boost for their businesses and our economy.
"That's why they're here to stay."
Read more: Demolished Crooked House pub bricks being sold for £50 on Facebook by 'vultures'
Read more: 'We don't want people to think we leave a mess': Locals tidy and guard rubble left after Crooked House pub bulldozed
The initiative intended to support the struggling hospitality sector in boosting sales during the Covid-19 crisis, has already been extended twice.
Burt now, pubs won't need to submit separate applications to local councils for additional licences concerning off-site sales.
"Takeaway pints and al fresco drinks are not just a much-enjoyed addition to pub menus, but also a welcome source of income for businesses recovering from the impacts of the pandemic," said a 10 Downing Street source told The Sun.
"The PM will always back British pubs. He's listened to the industry and heard them loud and clear. Now is not the time to call last orders on takeaway pints and the boost to business that they bring."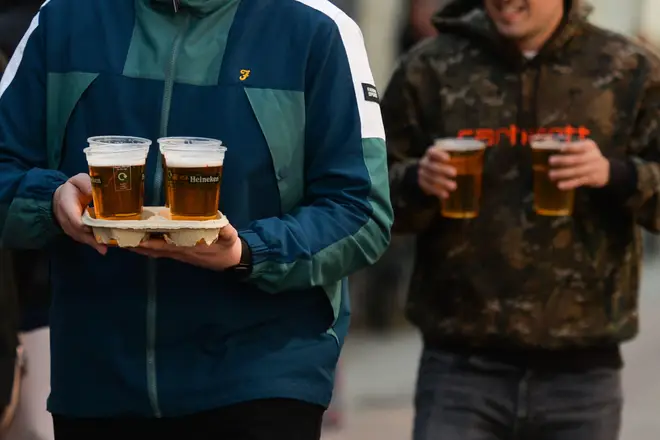 CAMRA Chief Executive Tom Stainer told LBC:
"It's a good sign that the Government has listened and decided to backtrack on their plans to end the automatic permission for pubs to make off-sales. We hope that they have also been listening very carefully to the trade and consumers, who are also calling for a relaxation of the new tax rules around draught takeaway sales, which restrict many publicans from selling takeaway beer and cider regardless of whether their license allows them to do so. This is because the new rules force them to buy separate containers of draught beers and ciders, with a higher rate of duty paid on them if they want to sell them for takeaway. We are hopeful that the Government will remove these unnecessary restrictions soon."
Speaking to LBC's Nick Ferrari at Breakfast Markets Commentator David Buik said Sunak was "riding to the rescue" of the measure.
The move has been welcomed by those in the pub trade but the PM has been urged to do more, with Emma McClarkin, Chief Executive of the British Beer and Pub Association telling LBC: "The Prime Minister's decision to step in and stop even more red tape being applied to our industry is hugely welcome. He realises the value of allowing our pubs to diversify and innovate and I'm sure business owners up and down the country will be pleased to not have to apply for additional licenses for something that has become much the norm over the past few years.
"This was a measure introduced to support our pubs during difficult times and the Prime Minister must recognise that these businesses are still under immense pressure. Alongside the easing of unnecessary regulation, we need a guarantee on no further duty rises, meaningful reform of business rates and for the Government to get inflation under control as soon as possible."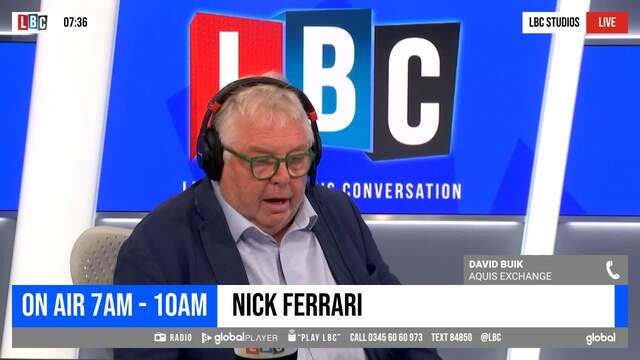 Rishi Sunak riding to the rescue of takeaway pints, says David Buik
There will also be changes to outdoor dining regulations, which were relaxed for businesses during the pandemic, are expected to be solidified next year as a component of the Levelling Up Bill.
Previously, businesses required both planning permissions and street trading licences to offer outdoor services. The new legislation will streamline this process, requiring establishments to apply for a single 'pavement licence'.
Many pubs and bars continue to face challenges in their recovery post-pandemic, grappling with escalating energy costs and other overheads alongside concerns about declining sales during the ongoing cost-of-living crisis.
This development comes on the heels of an incident where Mr Sunak encountered protest during his visit to a beer festival.
He was advocating for an alcohol-duty regime overhaul, which would entail increased taxes on a range of beverages.
Despite the backlash, Sunak insists that these reforms are aligned with supporting British pubs and will ultimately benefit businesses and consumers.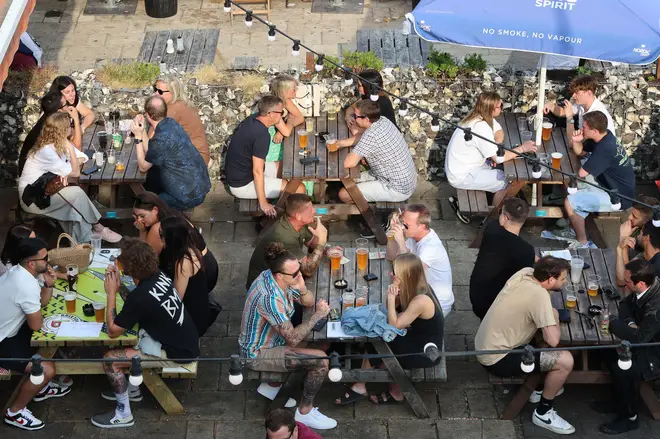 While certain drinks like wine, vodka, and canned beer will face tax increases, the new system, first introduced by Sunak during his tenure as Chancellor in 2021, intends to encourage moderation by taxing all alcohol based on its potency.
The modifications have received mixed reactions, with whisky distillers describing them as a significant setback and brewers expressing concerns about elevated taxes on bottles and cans.
However, the Prime Minister contends that these changes mark the most significant simplification of alcohol duties in over a century, made possible by Britain's departure from the EU.