UK surpasses five million second Covid jabs in 'another milestone' for rollout
3 April 2021, 16:27 | Updated: 4 April 2021, 11:07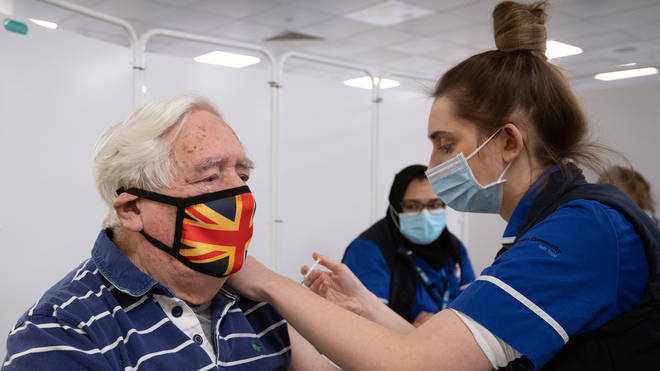 Over five million people have now received their second Covid-19 jab, as the PM urged Brits to get their jab when offered it.
A further 256,870 people were given their second dose of a Covid-19 vaccine on Friday, bringing the total number of people who are fully vaccinated to 5,205,505.
This group includes over half of over 80s and nearly one in 10 adults in the UK.
Read more: Two visitors for care home residents in England by 12 April
Read more: Seven die of blood clots in UK after AstraZeneca jab but no evidence of link
Boris Johnson hailed the moment as "another milestone" in the UK's vaccination programme, as he urged everyone to take their second dose when offered it.
Health Secretary Matt Hancock also thanked those who had helped the country reach the total, describing the vaccination drive as "spectacular".
Read more: PM says people cannot meet up indoors even if they are vaccinated
Read more: Great-grandmother Lucille Downer named as victim of 'sustained attack' by escaped dogs
We've reached another milestone in our vaccination programme with over 5 million people now having had their second jab.

I urge everyone to take up their second dose as soon as they are offered it.

— Boris Johnson (@BorisJohnson) April 3, 2021
The spectacular UK vaccination programme is making great strides:

- 31.4 million people have had their first jab
- 5.2 million people have had both doses
- Over half of over 80s have had both jabs

The vaccine is the route out.

Thank you to all involved

— Matt Hancock (@MattHancock) April 3, 2021
The number of first doses also increased by a smaller 124,415, as the NHS prioritises offering people a second jab within 12 weeks of the first.
The latest figures also reported that a further 10 people have died within 29 days of a positive Covid-19 test, the lowest number since 14 September, when nine deaths were registered.
A further 3,423 lab-confirmed cases were recorded as of 9am on Saturday, however the government has cautioned that the number of cases and deaths may be affected by incomplete data over the Easter weekend.
Read more: Volunteers paint 150,000 hearts for each life lost to Covid-19
It comes as the UK medicines agency has urged people to continue to getting the AstraZeneca jab.
The Medicines and Healthcare Regulatory Agency (MHRA) said it had identified 30 cases of rare blood clot events associated with the AstraZeneca vaccine.
However, the regulator said the risk associated with this type of condition is "very small" and that the public should continue to take up the vaccine when offered it.
They are investigating whether there is a possible link, or if the blood clots are just a coincidence that have been spotted due to the large number of people who have received a dose.
Read more: Caller describes shocking Covid symptoms as he begs others to 'get the vaccine'
The agency said it had identified 30 cases of blood clotting events following the use of the Oxford-developed drug, out of 18.1 million doses administered up to and including 24 March.
There is currently no evidence to suggest the jab caused the blood clots, they added.
Responding to the data, a member of the Joint Committee on Vaccination and Immunisation (JCVI) said that taking up the vaccine was "by far the safest choice" at minimising the risk of serious illness or death.