Angry workers stranded and stations deserted on first day of RMT's crippling strike
21 June 2022, 00:29 | Updated: 21 June 2022, 14:55
Millions of commuters have been caught up in travel chaos as the biggest rail strike in more than 30 years gets under way - with train stations eerily deserted and some passengers facing 10-hour trips.
Key workers, holidaymakers and festival-goers heading to Glastonbury are among those affected by today's crippling rail strikes by the RMT.
About 80 per cent of train services across Britain will be cancelled today, with only a fifth of services running and half of all lines closed.
Commuters that braved train trips were greeted by eerily deserted stations reminiscent of the days of lockdown.
Some stations were barred shut and virtually no people were inside on the first of three days of strikes this week.
Travel mayhem will last all week, with the RMT striking on Tuesday, Thursday and Saturday - but disruption will also occur on the days in between.
There is also a separate Tube strike on Tuesday.
Pictures on social media show Underground stations with the metal barriers drawn over the entrances.
RMT chief Mick Lynch told LBC he was "unhappy" the action was necessary but said workers had been forced into it.
Dougie Robertson arrived back from his holiday to the Dominican Republic on Tuesday morning.
His flight landed in Manchester and he faces a 10-hour round trip back home to Edinburgh, having booked his train home before the strikes were announced.
Usually it takes Mr Robertson around three hours to get home, however today it will take him between 10 and 12.
He told LBC he "sympathised" with workers who are demanding action but has a terrible journey ahead of him.
One woman from Cambridge told LBC she had been forced to fork out £100 to stay at Stansted Airport on Monday evening ahead of her flight this morning.
She said the strike action is "frustrating" and "disruptive".
The health service worker said she understood their stance but wished it wouldn't have such an impact on the general public.
"They've now issued statutory redundancy notices to our people last night on Network Rail," he said.
"They said they'd get us back to talks and they'd make a revised offer.
"But they haven't done that at all, they've issued me a letter saying that thousands of our people are going to be made redundant and we're going to have to deal with that now.
"So the dispute is escalating, and it's escalating because of the actions of Grant Shapps, Boris Johnson and Rishi Sunak."
Mr Lynch said many of the critical workers struggling to get to work, including nurses, "are suffering from the same things as our members" with job insecurity, low pay and poor conditions.
"That's what this dispute is about and it's got to change," he said.
"We've got to rebalance this society so that working people get a square deal from corporate Britain."
He also hit out at the government for telling "a pack of lies about our people and a pack of lies about this industry".
"Rather than telling lies about our members and about the state of this industry, they need to give the companies a mandate to negotiate so that we can settle this deal," he said.
Much of Britain will have no passenger trains for the entire day, including most of Scotland and Wales, the whole of Cornwall and Dorset, and places such as Chester, Hull, Lincoln and Worcester.
Services will primarily be restricted to main lines, but even those will only be open between 7.30am and 6.30pm.
The RMT Union's says last-ditch talks with the Government failed to resolve a row over pay, jobs and conditions.
The Prime Minister led a Cabinet meeting on Tuesday to discuss the travel chaos where he warned rail passengers must be prepared to "stay the course" despite "unnecessary aggravation" of the biggest rail strike in 30 years.
He said the strike was causing "significant disruption and inconvenience up and down the country".
Read more: Everything you need to know about this week's rail strikes
Read more: 'Driving unrest and stoking unrealistic expectations': Minister slams RMT ahead of strikes
General secretary Mick Lynch accused the Government of "actively preventing" a settlement and said the union found proposals put to it to be "unacceptable".
Boris Johnson said on Tuesday the strike is causing "significant disruption and inconvenience up and down the country" and called on the "union barons to sit down with Network Rail and the train companies" to thrash out reforms.
Read more: 'Steam age' railway can be run more effectively with fewer staff, rail boss says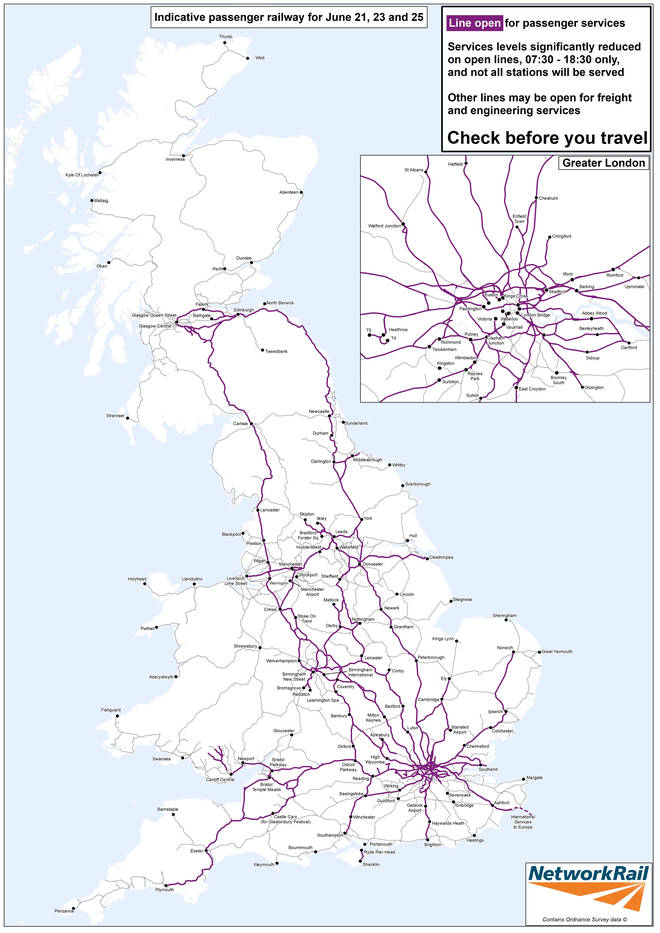 Pupils and parents were warned to have a "plan B" for getting to school for their exams during the rail strikes.
The major industrial action clashes with some A-level and GCSE exams set for Tuesday and Thursday.
The Department for Education has said exams are not expected to be rescheduled.
The RMT called on its members to "stand firm, support the action, mount the pickets and demonstrate their willingness to fight for workplace justice".
They reacted with fury at reports Labour has banned its frontbenchers from picket lines ahead of mass strikes set to cripple the country's rail services.
A leaked memo from the party leader's office said it does not want to see the industrial action go ahead, and accused the Government of failing to engage in any negotiations.
But it said shadow cabinet members "should not be on picket lines", and asked them to speak to team members to remind them of this.
In a statement, the RMT said: "The rail companies have now proposed pay rates that are massively under the relevant rates of inflation, coming on top of the pay freezes of the past few years.
"Faced with such an aggressive agenda of cuts to jobs, conditions, pay and pensions, RMT has no choice but to defend our members industrially to stop this race to the bottom."
RMT staff will be walking out on Tuesday, Thursday and Saturday but there will be a reduced service for the entire week, with passengers urged to only travel via train if absolutely necessary.
If you're travelling to or from places with no services - such as Bournemouth, Swansea, Holyhead and Chester - you won't be able to get a train and you should find alternative ways of travelling.
If you're not in one of these areas, you are advised to avoid travelling by train if you can but there will be reduced services if you need them.
Passengers who must travel are urged to plan ahead to ensure that they can complete their journeys within the window, with last services from London to Scotland, for example, leaving in the early afternoon.