UK records 333 more coronavirus deaths as over 14,000 cases reported
8 February 2021, 16:24 | Updated: 8 February 2021, 20:22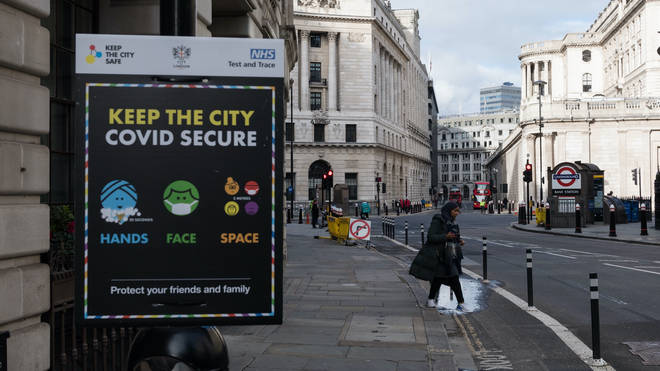 A further 333 people have died in the UK within 28 days of a positive Covid test, while over 14,000 more cases have been reported.
The total number of people to have died in the UK within 28 days of testing positive is now 112,798.
However separate figures for deaths where Covid-19 has been mentioned on the death certificate show there have been 130,000 deaths.
READ MORE: PM 'very confident' in Covid vaccines amid South African variant concerns
EXPLAINED: Where has the South African Covid variant been found in the UK? Postcodes for mass testing revealed
As of 9am on Monday, there had been a further 14,104 lab-confirmed cases of coronavirus in the UK, bringing the total number to 3,959,784.
Meanwhile, government data up to February 7 shows 12,806,587 coronavirus vaccines have been administered in the UK so far.
Of these, 12,294,006 were first doses - an increase of 278,988 on the previous day - while 512,581 were second doses, a rise of 862.
The seven-day rolling average of first doses given in the UK is now 428,130.
Based on the latest figures, an average of 386,571 first doses of vaccine would be needed each day to meet the Government's target of 15 million first doses by February 15.
NHS England data shows a total of 1,259,799 jabs were given to people in London between December 8 and February 7, including 1,198,157 first doses and 61,642 second doses.
This compares with 2,007,340 first doses and 71,176 second doses given to people in the Midlands, a total of 2,078,516.
The breakdown for the other regions is:
- East of England - 1,276,317 first doses and 57,444 second doses, making 1,333,761 in total
- North East and Yorkshire - 1,637,057 first and 76,105 second doses (1,713,162)
- North West - 1,430,473 first and 67,667 second doses (1,498,140)
- South East - 1,698,594 first and 81,084 second doses (1,779,678)
- South West - 1,213,582 first and 56,170 second doses (1,269,752)
It comes as Prime Minister Boris Johnson said he is "very confident" in all the vaccines available in the UK amid concerns over the Oxford jab's efficacy against the South African Covid strain.
A study found the drug may not be able to prevent mild or moderate illness caused by the South African strain, with Oxford jabs being paused in the southern hemisphere nation.
Separately, a new study showed the Pfizer/BioNTech vaccine is effective against the coronavirus variant.
The US study of 20 vaccine recipients found the vaccine neutralises the virus with the N501Y and E484K mutations.
Meanwhile, the Government has admitted no formal contracts have been awarded to hotels to quarantine arrivals from countries on the "red list", despite the policy entering into force next week.
UK nationals and residents returning from the 33 countries where the Government fears coronavirus variants have spread will be kept in hotels for 10 days from February 15.
A commercial specification was issued on Thursday evening to hotels near air and sea ports.