Truss passes buck to Patel as Ukraine refugee visa storm descends into chaos
7 March 2022, 12:09 | Updated: 7 March 2022, 17:28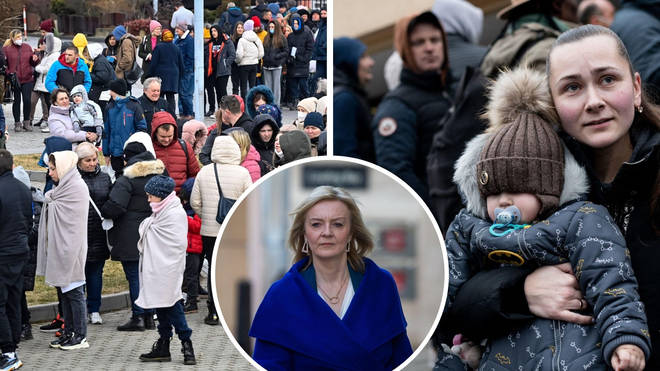 Foreign Secretary Liz Truss passed the buck to Priti Patel this afternoon amid the outcry over the low number of visas being granted to Ukrainian refugees.
It comes after the Home Office revealed on Sunday that only "around 50" visas had been issued under the Ukraine Family Scheme.
When grilled about the situation by the Foreign Affairs Committee, Ms Truss said visas were not something her department deals with directly.
"It's really a matter for the Home Secretary exactly how the visa process works," she said.
It came as Home Secretary Ms Patel provided an update on MPs in the House of Commons.
She insisted there are British officials in Calais and "support on the ground" to help Ukrainians trying to enter the UK.
"It is absolutely right that we've already had people in Calais", she said, adding: "It is wrong to say we're just turning people back - we're absolutely not, we're supporting those that have been coming to Calais."
She warned that people-smuggling gangs are "roaming around Calais" and "human trafficking cases are now manifesting at the border", adding: "It's absolutely right that we have the right processes in place to check people and to safeguard people."
Read more: 'I am scared about everything': LBC speaks to Ukrainian refugees on Polish border
Asked what the number of visas issued was on Monday, the Prime Minister earlier told reporters: "I can't give you the number, we're processing thousands right now.
"We will continue to make sure that we have a very, very generous approach."
Mr Johnson was speaking in London where he has been holding talks with Canadian and Dutch prime ministers Justin Trudeau and Mark Rutte over the situation in Ukraine.
He said the Government would not introduce a system whereby Ukrainian refugees can come to the UK "without any checks or any controls at all".
It was reported on Sunday Ms Patel was examining "legal options" to create a "humanitarian route", which would offer all Ukrainians seeking refuge the right to come to the UK, regardless of whether they have family ties there.
But it was unclear whether this referred to a sponsorship scheme that had already been announced, with Europe minister James Cleverly saying on Monday that there had been no change to the plans over the weekend.
Asked if the Government was considering a "third route" to the UK, not based on family members or sponsorship, Mr Johnson said: "What we won't do, and let me be very clear, what we won't do is have a system where people can come into the UK without any checks or any controls at all, I don't think that is the right approach. But what we will do is have a system that is very, very generous.
"As the situation in Ukraine deteriorates, people are going to want to see this country open our arms to people fleeing persecution, fleeing a warzone.
"I think people who have spare rooms, who want to receive people coming from Ukraine, will want us to have a system that enables them to do that. And that is already happening."
He also defended the UK's overall response to the crisis, saying "we want to go as fast as we possibly can" in imposing sanctions and "there is more to be done", with nothing off the table.
It came as Labour leader Sir Keir Starmer accused the Home Office of a chaotic response to the Ukraine refugee crisis.
Speaking at King's College London, he said: "The Home Office is in a complete mess about this, they keep changing the rules, the stories of what is actually happening on the ground contradict what the Home Office say.
"They have got to sort this out... there should be a simple route to sanctuary for those that are fleeing for their lives."
The low figure emerged on Sunday, causing outcry as the UN Refugee Agency said 1.7m Ukrainians are thought to have left their homeland. More than 5,000 applications have reportedly been submitted to the UK government.
According to the UN Refugee Agency, Poland has taken just over a million Ukrainians, with Hungary accepting 180,000, Slovakia 128,000 and Moldova 82,000.
Romania has taken in 78,000. Other European countries have taken some 183,000, the agency said.
Politicians on both sides of the divide hit out at the low number of visas, with Conservative MP Tom Tugendhat, the Foreign Affairs Committee chairman, saying it was "certainly not a success".
He told LBC's Nick Ferrari at Breakfast: "What we need to do is to make sure that we get the Home Office absolutely delivering, to make sure that we get the support for those who are most in need.
10 days.
1.5 million people.
This is now the fastest growing refugee crisis since World War II.

In the coming days millions more lives will be uprooted, unless there is an immediate end to this senseless conflict. pic.twitter.com/OmEcGeMRtS

— UNHCR, the UN Refugee Agency (@Refugees) March 6, 2022
"The British people are extremely generous, you and I both know that.
"This isn't some sort of illegal scam. This is, perfectly obviously, people fleeing for their lives and we need to be absolutely there to support them."
Yvette Cooper, the shadow home secretary, complained the effort was "too slow".
Read more: Moment bomb shelter in besieged Kyiv falls silent as young girl sings 'Let it Go'
She added on Monday: "Total chaos from Govt. This isn't good enough. Families are struggling, being turned away or waiting days for visas.
"We need urgent action to get people to sanctuary in UK. Home Office were warned wks ago by British intelligence that an invasion was coming. Why didn't they plan?"
The UK Refugee Council, which promotes the rights of asylum seekers, said: "It's shocking to hear reports that so many refugees are being turned back at Calais.
"The horrific situation in Ukraine shows the urgency for all people escaping war and persecution. We badly need a more compassionate system."
Mr Cleverly said the Home Office "had to create a system pretty much from scratch" and was facing a massive refugee crisis.
"The numbers of people who are seeking refuge is unprecedented. This is the largest refugee flow that we have seen since the Second World War," he told LBC's Nick Ferrari at Breakfast.
Read more: Anonymous hacks streaming channels to show Russians the reality of Ukraine war
Read more: Zelenskyy warns he 'will not forgive' after civilians massacred fleeing Ukraine
He went on: "It will take a little time to get the system up and running, that's now there, I have no doubt that the numbers will start coming through."
However, Mr Cleverly added that he had "no doubt" the process "will get quicker and slicker and faster".
Read more: France call UK 'inhumane' after hundreds of Ukrainian refugees 'turned away at border'
Read more: Russia shells nuclear reactor in Kharkiv amid warnings of 'large-scale disaster'
Ms Patel told The Sun she is looking into setting up a "humanitarian route" for fleeing Ukrainians, saying would allow people with no connection to the UK who are escaping the fighting to be allowed to come to Britain.
Alternatively, they would have to show they have family connections with the UK.
LBC spoke to Iryna Shtogryn who is hoping to join her husband in Tooting, South London, with her 14-year-old daughter.
Speaking to Matthew Thompson, she said: "I have hope.
"I'm scared but it's impossible to live without hope.
"Everybody has to have hope because if we will not have the hope, Putin will go to victory... we all have hope and we believe that we will end this Putin regime... one day I will go home."
She added: "I believe that everything will be ok.
"I will meet my husband, I want to believe in this fact."