A&E waiting times hit worst-ever level with one in six waiting over four hours
14 November 2019, 10:19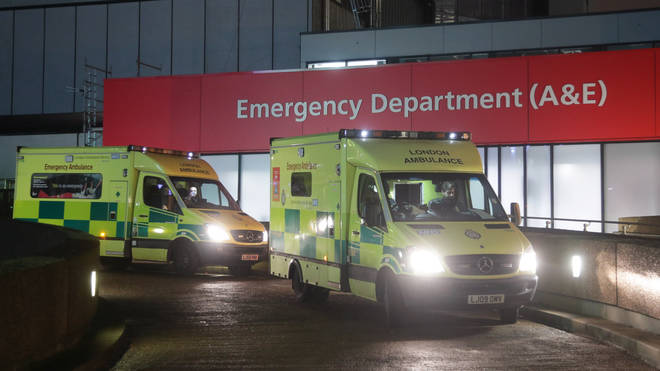 A&E waiting times have hit their worst-ever level, with one in six patients waiting longer than four hours in October.
This is the worst-ever performance since a target was introduced in 2004.
Just 83.6 per cent of patients arriving at A&E were treated or admitted in four hours, according to the figures from NHS England.
The target is 95 per cent but it has not been met since July 2015.
The data also showed that in September, 84.8 per cent of patients started treatment within 18 weeks against a target of 92 per cent - a continued decline in performance.
The target was last met in February 2016.
Responding to the stats, Health Secretary Matt Hancock said: "These figures show just how important it is that we stop Jeremy Corbyn.
"We are giving the biggest cash boost ever to our NHS, but Corbyn's chaotic policies will put that at risk.
"With rising demand, and with dedicated staff already working exceptionally hard, the last thing our NHS can afford is Labour's plans for a four-day week and uncontrolled and unlimited immigration, which would cripple our health service – leaving it understaffed and underfunded.
"Our country cannot afford the cost and chaos of Jeremy Corbyn.
"Only Boris Johnson and a majority Conservative government will get Brexit done and focus on improving our NHS."
Jonathan Ashworth, Labour's Shadow Health Secretary, hit back at the stats, and said: "The Conservatives have ushered in the worst NHS crisis on record.
"Under Boris Johnson the NHS is in crisis and we're heading for a winter of abject misery for patients.
"Our A&Es are overwhelmed, more so than ever. In every community there's an ever growing queue of people waiting for treatment.
"The Tories spent a decade cutting over 15,000 beds. Now they should apologise to every patient languishing on a trolley and waiting longer for treatment.
"These figures starkly show why patients desperately need Labour's £40 billion rescue plan."
Liberal Democrat Shadow Health Secretary Luciana Berger also slammed the Tories, adding: "This is a damning indictment of the Conservatives' dismal record on the NHS. It is shameful that patients are being abandoned for hours in A&E or waiting for months in pain for routine operations.
"The Tories' extreme Brexit would make a dire situation worse, by driving away the EU nurses we desperately need.
"The Liberal Democrats would build a brighter future by stopping Brexit and investing £35 billion in our NHS through a penny on income tax."