'Acidic substance' thrown at Dalston bar Mangle E8 burns clubbers
17 April 2017, 10:51 | Updated: 14 July 2017, 14:03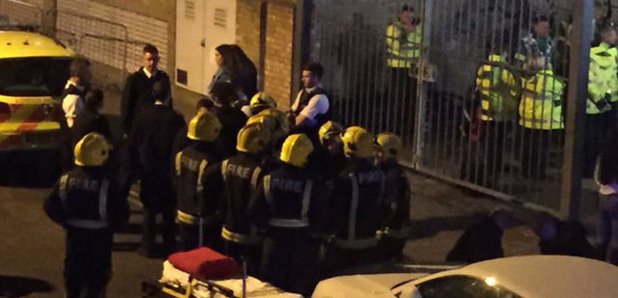 At least 12 people suffered burns after a "strong acidic substance" was reportedly thrown in a bar in east London.
Emergency services, including a hazardous response team, were called to Mangle E8 in Dalston at around 1.10am on Monday.
The manager of a nearby bar reportedly told his staff that there had been an acid attack which had left a woman with burns to her face and arm
"My manager told me that around one o'clock they heard somebody saying that someone was attacked with liquid acid and there was a girl who had half her arm and her face burnt," Nima Navazande said after taking over for the morning shift at the Martello Hall bar.
"My manager had to lock the doors and stay indoors to make sure nobody got in or out."
Another witness said they had seen a group of women pouring water on others who were apparently injured.
"In the party in the basement there were girls making noise, I saw their friends ordering a bottle of water - they were putting it on them, they were splashing it on their faces," the witness, who asked not to be named, said.
"It was like a war - the police were everywhere."
About 600 people had been at the late night event and about 400 were still in the building - between Sidworth Street and Warburton Road - at the time.
All were evacuated and London Ambulance Service said 10 were treated for minor burns at the scene before being taken to hospital.
A further two people later attended hospital with similar symptoms.
A London Fire Brigade spokeswoman said: "The only information that we have is that it was an unknown corrosive substance thrown within the nightclub.
"It was identified by a PH paper test as a strong acidic substance."
A journalist who was in the area at the time, Phie McKenzie, tweeted: "Scary scenes in Hackney tonight, we have heard reports of chemical burns of people in the building here".
She posted a picture showing several firefighters waiting outside the building.
A Met Police statement said: "Police were called to a licensed premises in Sidworth Street, Dalston, at approximately 1.10hrs on 17 April, after members of the public complained of a noxious substance.
"London Fire Brigade and London Ambulance Service were called to the scene."
(c) Sky News 2017: 'Acidic substance' thrown at Dalston bar Mangle E8 burns clubbers