Almost a quarter of new food products are vegan
17 January 2020, 08:58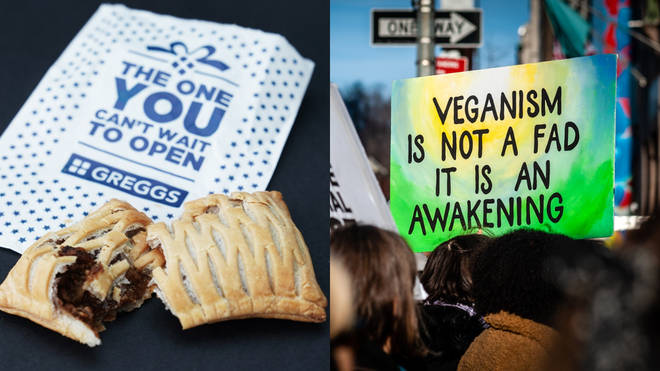 Halfway through Veganuary, it's been revealed almost a quarter of all new food products in the UK last year were labelled as vegan.
New research shows vegan products are increasingly popular with nearly two-thirds of Britons choosing to eat meat substitutes.
Figures also show the number of Brits who have eaten food containing meat substitutes has risen from 50% in 2017 to 65% over the last two years, analysts Mintel said.
The research found sales of meat-free foods have grown 40% to an estimated £816 million in 2019.
While the number of meat-eaters who have reduced or limited the amount of meat they consume has risen from 28% in 2017 to 39% in 2019, it said.
The survey found that one in four consumers eating less meat said that it was to help the environment, while a third said that it helped to improve their health.
The number of high street brands offering meat-free options is also on the rise, with some of the offerings making a big splash in the world of news.
January saw Greggs launch a vegan version of their popular stake bake after the high street chain's meat-free sausage roll was one of the most popular snack foods of 2019, with so many people wanting to try them many stores ran out of the product upon launch.
The new product hit the shelves just in time for Veganuary, when hundreds of thousands of people pledged to have a meatless month as they try the diet.
According to polls quoted by the Vegan Society, the number of vegans in Britain has quadrupled since 2014, increasing from 150,000 to 600,000.
Orders for vegan meals have increased by 388% between 2016 and 2018, making them the UK's fastest-growing takeaway choice.
However, as the number of new food products which are vegan have grown from 17% in 2018 to 23% last year, those following a vegan diet still only make up around 1% of the UK population, the figures show.
When asked about the benefits of eating less meat, 25% of consumers cited improving the environment, while 32% said it helped to improve health and 31% said it saved them money.
Kate Vlietstra, Mintel global food and drink analyst, said: "The rising popularity of flexitarian diets has helped to drive demand for meat-free products.
"Many consumers perceive that plant-based foods are a healthier option and this notion is the key driver behind the reduction in meat consumption in recent years."
The research comes as Waitrose introduces more than 30 new vegan products across its own-label and branded ranges, doubling the amount from last year.
The range includes a "no egg fried rice" using tofu and "crisp-crumbed fishless goujons" made from banana blossom, which has a fleshy, flaky texture that mimics fish.