BAME groups up to twice as likely to die with Covid-19, PHE report finds
2 June 2020, 13:03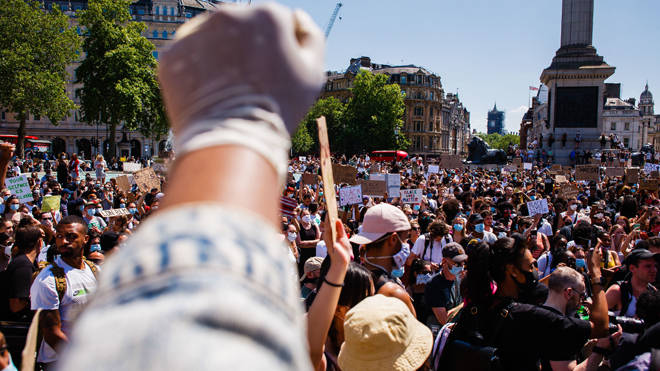 A major report into the effects of coronavirus on BAME groups has showed that ethnic minorities are "disproportionately" affected by the disease.
People of Chinese, Indian, Pakistani, Other Asian, Caribbean and Other Black ethnicity had between 10 and 50% higher risk of death when compared to White British, the report states.
People of Bangladeshi ethnicity had around twice the risk of death when compared to people of White British ethnicity.
The Public Health England report also found that black and Asian patients were "over-represented" among patients suffering from Covid-19 who were in need of life-saving respiratory support in hospital. 15.2 per cent and 9.7 per cent of critically ill patients were from Asian and Black ethnic groups respectively.
The highest diagnosis Covid-19 rates per 100,000 population are in black people (486 females and 649 males), and are lowest in white people (220 in females and 224 in males), the report said.
The study said the "relationship between ethnicity and health is complex and likely to be the result of a combination of factors".
"People of BAME communities are likely to be at increased risk of acquiring the infection," the report states.
"This is because BAME people are more likely to live in urban areas, in overcrowded households, in deprived areas , and have jobs that expose them to higher risk."
"People of BAME groups are also more likely than people of White British ethnicity to be born abroad, which means they may face additional barriers in accessing services that are created by, for example, cultural and language differences," the report continues.
The report said occupation is "associated with risk of being exposed to COVID-19 and we know some key occupations have a high proportion of workers from BAME groups", but the report's authors stressed that the findings did not including the effect of occupation on covid-19 risk.
Mr Hancock told the Commons the evidence showed that coronavirus targets people in an "unequal and disproportionate way".
He said: "Black lives matter, as do those of the poorest areas of our country which have worse health outcomes and we need to make sure all of these considerations are taken into account, and action is taken to level-up the health outcomes of people across this country.
"Because there's no more important levelling-up than the levelling-up of your life expectancy and the quality of health with which you live that life."
Listen & subscribe: Global Player | Apple Podcasts | Google Podcasts | Spotify
BAME people are also more likely to have worse outcomes once infected with coronavirus, the report states.
It cites evidence that "people of Bangladeshi and Pakistani background have higher rates of cardiovascular disease than people from White British ethnicity, and people of Black Caribbean and Black African ethnicity have higher rates of hypertension compared with other ethnic groups," making them in higher risk categories than people with no underlying health conditions.
The report comes amid accusations that its release had been delayed due to Black Lives Matter protests that had happened around the country and which are raging in the US.
Sky News reported Whitehall sources who said the government had considered delaying publication of the report for a second time.
The government denied this today, saying: "Ministers received the initial findings today. They are being rapidly considered and a report will be published this week. It is not true to say this has been delayed due to global events."
Dame Donna Kinnair, Royal College of Nursing chief executive and general secretary, earlier called for the BAME review to be published urgently.
She said: "The Public Health England review must be published as a matter of urgency. Every day we go without knowing why BAME health and care staff are disproportionately affected by Covid-19 is another day these workers are needlessly put at extra risk.
"Our own data shows us that 43% of BAME nursing staff feel they cannot access proper eye and face protection. UK governments must move quickly to develop clear, cross-governmental strategy and costed action plans to tackle racial disparities across society."
Labour leader Sir Keir Starmer called on the Government to "stop the excuses" and publish a review into the impact of Covid-19 on people from black, Asian and minority ethnic (BAME) backgrounds.
He tweeted: "BAME communities have been disproportionately affected by COVID-19. We need the findings of this review published and action taken now."