WATCH: Boris Johnson accidentally headbutts Andrea Leadsom at party conference
2 October 2019, 18:16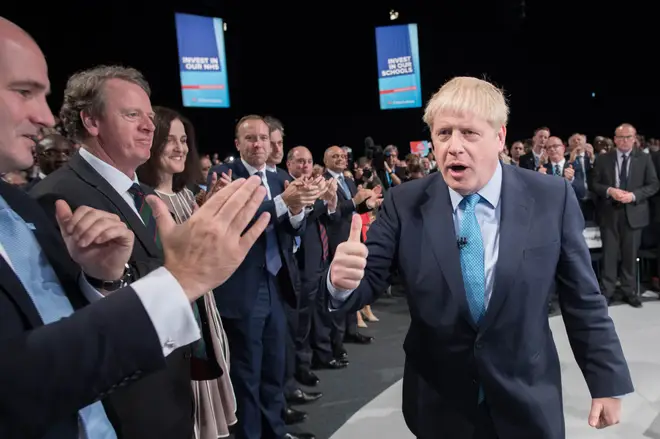 Boris Johnson accidentally head-butted Andrea Leadsom while attempting to greet her with a kiss at today's Conservative Party conference.
In the Sky News video below, Prime Minister Boris Johnson can be seen moving along a line of members of his cabinet as he greeted them on his way to give his Tory conference speech.
However when he tried to kiss Business Secretary Andrea Leadsom on the cheek, both politicians leaned in separate ways, causing Mr Johnson to him accidentally head-butt his colleague.
The prime minister regained his composure and carried on greeting other members of his Cabinet.
Read about the speech Boris Johnson delivered about Brexit here.
Many social media users were quick to respond to Mr Johnson's blunder.
One Twitter user claimed it was "even worse than Corbyn high-fiving Thornberry's boob" - a gaffe that occurred two years ago.
In his speech at the Tory party conference, Boris Johnson laid out his final Brexit deal proposal to replace the Northern Ireland backstop.
He urged Brussels to compromise with the UK, saying that failure to reach a Brexit deal would be a "failure of statecraft for which we would all be responsible".
In the letter to EU Commission President Jean Claude-Juncker, Mr Johnson declared the backstop was the "road to nowhere" and "a new way forward must be found."
The European Commission says it will "examine [the proposals] objectively".
The UK is set to leave the EU on 31 October and the government has insisted it will not negotiate a further delay beyond the Halloween deadline.