Boris Johnson and Irish PM Leo Varadkar say they see 'pathway' to Brexit deal
10 October 2019, 16:10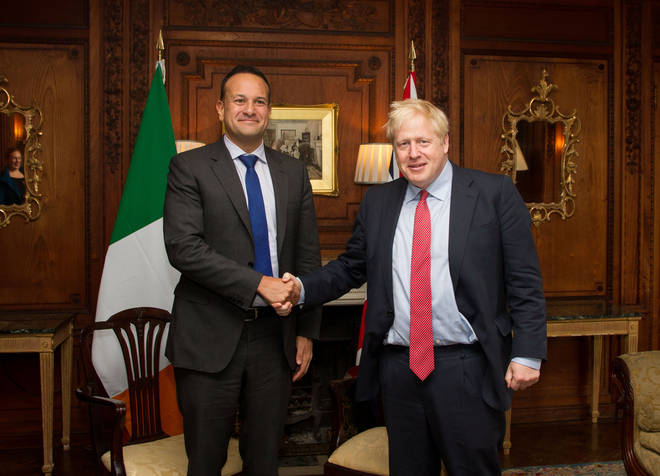 Boris Johnson and Irish premier Leo Varadkar have said they can "see a pathway" to a possible Brexit deal.
Following more than two hours of talks at Thornton Manor in The Wirral, Merseyside, the two leaders said they believed a deal was "in everybody's interests".
In a joint statement, they said they would now "reflect further" on their discussions while their officials would continue to "engage intensively".
"Both continue to believe a deal is in everybody's interest. They agreed that they could see a pathway to a possible deal," the statement said.
The talks concentrated on "the challenges of customs and consent", Downing Street said.
A small group of protesters had gathered outside the building where the talks were taking place.
Following their discussion the Taoiseach will consult with the EU's Brexit taskforce, called Taskforce 50.
Brexit Secretary Stephen Barclay is due to meet EU chief Brexit negotiator Michel Barnier tomorrow morning.
Mr Barnier said yesterday both sides were "not really in a position where we are able to find an agreement".
Earlier Leo Varadkar tweeted pictures of the meeting. He wrote: "Looking forward to a detailed discussion to see if we can make any progress."
The prime minister's new plans for the post-Brexit Irish border focus on scrapping the backstop arrangement agreed between Brussels and his predecessor Theresa May.
Mr Johnson has insisted the UK will leave the EU with or without a deal at the end of the month.
That is despite the so-called Benn Act - passed by MPs last month - demanding he request a delay to the Article 50 deadline from the EU until January 2020 if a deal has not been agreed before 19 October.