Boris Johnson to address public directly after his snap election dream was shattered
5 September 2019, 09:23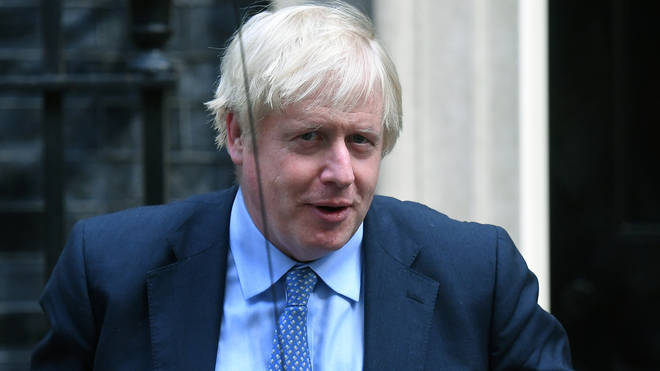 Boris Johnson will today address the United Kingdom to set out the "vital choice that our country faces."
A No10 spokesman said he will speak directly to the public later today to "argue that Jeremy Corbyn's Surrender Bill will force the Prime Minister to go to Brussels and surrender to any demands they make.
This would in essence overturn the biggest democratic vote in our history - the 2016 referendum.
"The PM will not do this.
"It is clear the only action is to go back to the people and give them the opportunity to decide what they want: Boris to go to Brussels and get a deal, or leave without one on October 31 or Jeremy Corbyn arriving in Brussels with his surrender bill begging for more delay, more dither and accepting whatever terms Brussels imposes over our nation."
The spokesman added: "For Jeremy Corbyn to continue to avoid an election would be a cowardly insult to democracy."
Mr Johnson needed to get the agreement of two thirds of the House for an early election, but fell well short of the mark with Mr Corbyn Boris to address public after his snap election dream was shattered in Commons
Labour to abstain. Just 298 MPs backed a poll, compared to the 434 required. 
Chancellor Sajid Javid Chancellor said: "What we have now is a situation where the Leader of the Opposition is trying to get his way which is to basically make sure that we never leave the European Union, he is trying to do that by kiboshing the negotiations the Government is carrying out on behalf of the British people."
He told the BBC he was "sad to see 21 colleagues, 21 Conservatives no longer carrying the Conservative whip, of course I am, these are my friends, these are good people".
"But they also knew that when the Prime Minister of the day says a vote is a matter of confidence what would be the consequences of opposing that.
"This is not something I want to see but we do need to step back and think about how do we deliver on the central mission to leave the EU by October 31 and continue to govern this country in a way that the people are feeling that their priorities are being met."
Shadow chancellor John McDonnell acknowledged splits in Labour about the timing of a general election.
He said the Labour leadership was in contact with legal experts, other opposition parties and the Parliamentary Labour Party about what to do and "people have got different views on this".
"The problem that we have got is that we cannot at the moment have any confidence in Boris Johnson abiding by any commitment or deal that we could construct," he said.
"That's the truth of it. So, we are now consulting about whether it's better to go long, therefore, rather than to go short."
In response to Downing Street's attack on "cowardly" Jeremy Corbyn, Mr McDonnell said: "I wish he would put aside Donald Trump's script for a time and have a serious discussion.
"What's happening now he's demeaning the office of Prime Minister, he really is.
"We want a general election as well but we want it in the interests of the country when we have prevented a no-deal Brexit, and on that basis we have got to determine the date."
Liberal Democrat leader Jo Swinson believes Boris Johnson could try to press ahead with no-deal, despite MPs having already approved legislation designed to prevent it.
She said: "I do have confidence that the bill will get through the House of Lords.
"But in the current circumstances where we find ourselves, where we've got a Prime Minister seemingly prepared to do anything to rip up the traditions of Parliamentary democracy, then I also think that we need to be very aware of the risks.
"Thinking ahead to any tricks the Prime Minister might have up his sleeve to nonetheless crash us out of the European Union."
The MP for East Dunbartonshire is confident her party is ready for a general election.
She added: "We are selecting candidates right across the country and we know from our polling that hundreds of seats are now in play for the Liberal Democrats.
"In the current political environment, anything is possible.
"We have had so many instances in recent years where people have made political predictions, assumed that the old rules apply."
Tory former Cabinet minister Damian Green is the leader of the One Nation group of Conservatives who have called for reinstatement of the 21 rebels kicked out of the party.
He told the BBC: "I'm afraid it does look as though somebody has decided that the moderate, progressive wing of the Conservative Party is not wanted on voyage.
"That's wrong in principle because there are many Conservative traditions, but it is terrible practical politics to narrow your appeal just before a general election."

Confederation of British Industry director-general Dame Carolyn Fairbairn said firms would welcome the prospect of a delay to Brexit.
"From the political turmoil a small chink of light for business - most firms back an extension over the known harm of no-deal," she said.
"Yet, with an election looming, many remain deeply concerned about the ongoing impact of uncertainty on the economy."
She warned that until a deal was agreed, firms would continue to divert "billions of pounds from productive investment to no-deal preparations".
She added: "Whatever happens next, any delay must have purpose and be used to rediscover a spirit of compromise in Westminster to stop a political crisis from becoming an economic one."

John McDonnell called on Boris Johnson to "grow up", and shared Jo Swinson's concerns about the Prime Minister trying to force through no-deal.
The shadow chancellor said: "That's one of the dilemmas we're facing.
"We're looking now at taking legal advice on how secure that Bill is, but we're also consulting the other opposition parties, and our own party on the date of a general election
"We're desperate for a general election."
The MP for Hayes and Harlington also criticised Mr Johnson's behaviour in recent weeks.
"Even though you're from a different political party, I want our Prime Minister to behave in a way in which he shows respect to others, and just have the presence of a prime minister."