'Let's not blow it now folks', Boris Johnson warns Brits to 'enjoy summer sensibly'
3 July 2020, 09:32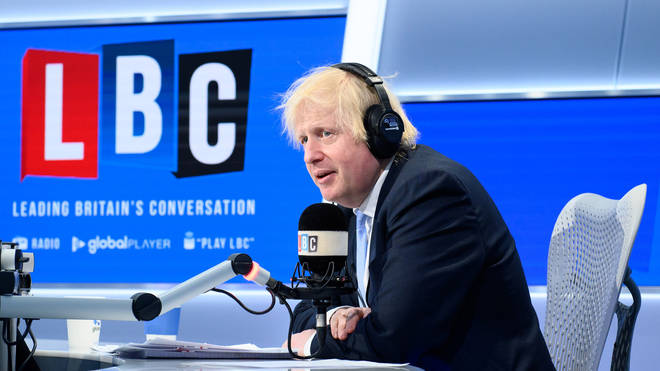 Boris Johnson has urged Britons to "enjoy summer sensibly" ahead of the easing of lockdown restrictions on Saturday.
Speaking to LBC's Nick Ferrari the day before bars and restaurants reopened after more than 100 days of lockdown due to coronavirus the PM urged restraint.
Critics have questioned if it is sensible for pubs and bars to reopen on a Saturday, while police have ensured extra officers are on patrol to help combat disorder.
Hospitality industry bodies and the police have already come out to urge drinkers to behave responsibly this weekend.
The Prime Minister told LBC: "Tomorrow we come to step three of the plan that I set out on May 10, that everybody, I think, has understood, or huge numbers of people have understood and followed very carefully and very closely.
"And it's because people stuck to that plan that we're now able to carefully and cautiously open up hospitality tomorrow.
"And my message is really for people to enjoy summer sensibly and make sure that it all works."
When pressed by host Nick Ferrari on why Saturday was chosen rather than Monday and whether he only "hoped" it would be safe, Mr Johnson added: "It's not on hope, it's based on a clear understanding of the statistical risks that we now face as a country.
"We've progressed thanks to the efforts of the British people from an incidence of the disease at about one in 400 a few weeks ago to maybe one in 2,200 today. You're appreciably less likely now to be in close proximity to someone who has it than you were even a couple of weeks ago.
"We're making progress, we aimed for July the 4th, we wanted to set ourselves a target, we think we're in good shape but my message is let's not blow it."
"Let's not blow it now folks," the Prime Minister said was his overriding message.
Later Mr Johnson is expected to lead a Downing Street press conference where he will warn the nation that "we are not out of the woods yet" and say severe restrictions could return if transmission of Covid-19 rises with the easing of the lockdown imposed more than three months ago.
According to the Department of Health, a total of 43,995 people have died in the UK after testing positive for the virus.
This is the third-highest total in the world, behind only the US and Brazil, according to Johns Hopkins University.
When questioned on why it was safe to reopen hospitality businesses but not theatres, the PM said, "we need to get to a stage when people can safely perform again."
He told LBC the Government wanted to "make sure we can help people throughout the crisis."
He added: "You can find all sorts of inconsistencies."
The Prime Minister revealed to LBC the date for gyms to re-open is "in a couple of weeks".