Boris Johnson's 20k police pledge first wave of new recruits announced
9 October 2019, 00:44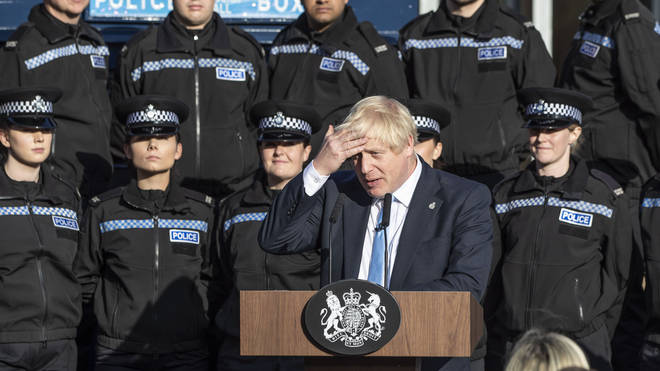 The Home Office has revealed exactly how many extra police officers forces in England and Wales will receive as they aim to meet the Prime Minister's target of 20,000 extra officers over three years.
One of Boris Johnson's key pledges after he became Prime Minister was that he would increase police numbers across England and Wales.
The Government is set to provide £750m to support forces in recruiting up to 6,000 extra officers by the end of 2020-21.
Home Secretary Priti Patel said: "The public are clear they want to see more police officers on their streets, whether they live in the city or the countryside.
"This is the people's priority and it is exactly what the Government is delivering.
"Every single police force in England and Wales will be able to recruit additional officers this year to help keep all of our communities safer."
The three forces with the highest recruitment target for the first year are the Metropolitan Police (1,369), West Midlands (366) and Greater Manchester (347).
Police Federation Chair John Apter said, on Twitter he wanted to "grab this opportunity and work with it." He added that the Home Secretary wants to work with the Police Federation, and he was willing to take the chance.
Other forces set to get a big boost in their numbers include West Yorkshire (256), Merseyside (200), Northumbria (185) and Thames Valley (183).
The Government said all of the extra officers recruited as part of the 20,000 promise would be hired to fill existing vacancies.
A Home Office spokesperson said: "They are also on top of the extra officers already being recruited because of the £1 billion increase in police funding for 2019-20, which includes money from council tax and for serious violence."
They revealed funding for recruitment in 2020-21 will cover "all associated costs, including training and kit."
The Home Office revealed exactly how many new officers were expected to be recruited by each force in the first year under the plans:
Avon & Somerset - 137
Bedfordshire - 54
Cambridgeshire - 62
Cheshire - 90
Cleveland - 72
Cumbria - 51
Derbyshire - 85
Devon & Cornwall - 141
Dorset - 50
Durham - 68
Dyfed-Powys - 42
Essex - 135
Gloucestershire - 46
Greater Manchester - 347
Gwent - 62
Hampshire - 156
Hertfordshire - 91
Humberside - 97
Kent - 147
Lancashire - 153
Leicestershire - 89
Lincolnshire - 50
London, City of - 44
Merseyside - 200
Metropolitan Police - 1,369
Norfolk - 67
North Wales - 62
North Yorkshire - 58
Northamptonshire - 57
Northumbria - 185
Nottinghamshire - 107
South Wales - 136
South Yorkshire - 151
Staffordshire - 90
Suffolk - 54
Surrey - 78
Sussex - 129
Thames Valley - 183
Warwickshire - 41
West Mercia - 93
West Midlands - 366
West Yorkshire - 256
Wiltshire - 49