Boris Johnson's brother Jo quits as Tory MP and minister over 'family loyalty'
5 September 2019, 12:16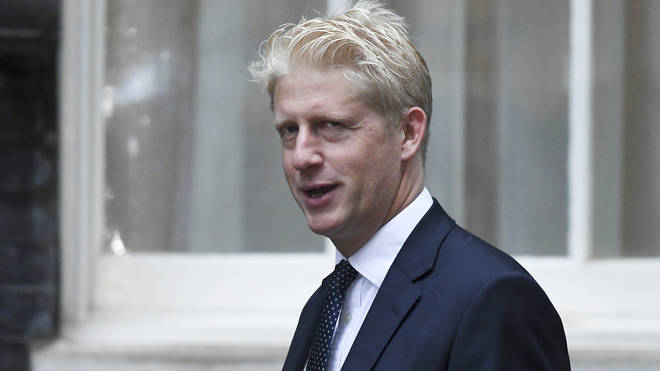 Boris Johnson's brother Jo quit as a Tory MP and minister today, saying he is "torn between family and national interest."
The Tory MP for Orpington said there was an 'unresolvable tension' in his role.
He resigned as a minister last year in protest at Theresa May's Brexit deal. He posted on Twitter: "It's been an honour to represent Orpington for 9 years & to serve as a minister under three PMs.
"In recent weeks I've been torn between family loyalty and the national interest - it's an unresolvable tension & time for others to take on my roles as MP & Minister.
A No. 10 spokesperson said "the Prime Minister would like to thank Jo Johnson for his service" adding he has been "a brilliant, talented minister and a fantastic MP"
Labour's Diane Abbott wrote on Twitter: "If his own brother has no confidence in Boris Johnson, why should anybody else?"
Tensions over Europe within the family are well known, with sister Rachel Johnson joking "the family avoids the topic of Brexit especially at meals as we don't want to gang up on the PM".
It is understood Jo Johnson will stand down as an MP at the next election.
Shadow education secretary Angela Rayner said: "Boris Johnson poses such a threat that even his own brother doesn't trust him."
Shadow policing minister Lou Haigh added: "If your own brother doesn't believe you're acting in the national interest, why should the country?"
Former justice secretary David Gauke, one of those who lost the whip for rebelling against the Government this week, said: "Lots of MPs have had to wrestle with conflicting loyalties in recent weeks.
"None more so than Jo. This is a big loss to Parliament, the Government and the Conservative Party."
The shock resignation came as his brother geared up for an election campaign which will focus on his uncompromising approach to Brexit.
The Government will mount a fresh attempt to call an early election on Monday after failing in a bid last night to go to the country on October 15.