Brit backpacker feared to have contracted coronavirus takes first steps in hospital
22 January 2020, 10:37
A British backpacker feared to have contracted coronavirus has taken his first steps in hospital as he begins the long road to recovery.
Ashley Shorley, 32, was initially feared to have contracted the deadly virus that is sweeping Asia. Doctors have now said he does not have the disease, but something similar that had been likened to an aggressive strain of bird flu.
Surgeons reportedly had to drain two kilograms of fluid from the backpacker's collapsed lungs after they were infected by the virus. His condition was described as "touch and go" as he underwent the procedure.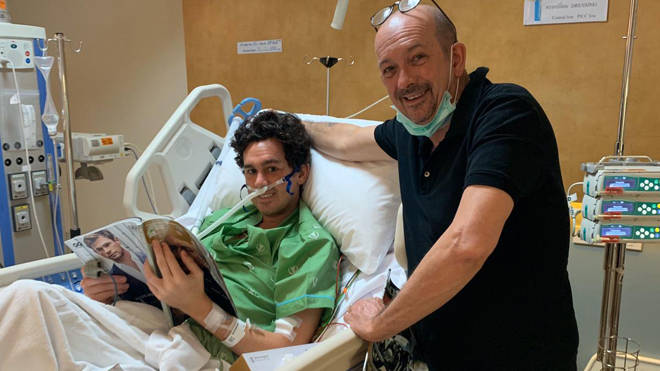 But he has now been filmed taking his first steps in hospital after making great strides in his recovery, with his father sharing pictures of him up and smiling, reading magazines in his hospital bed.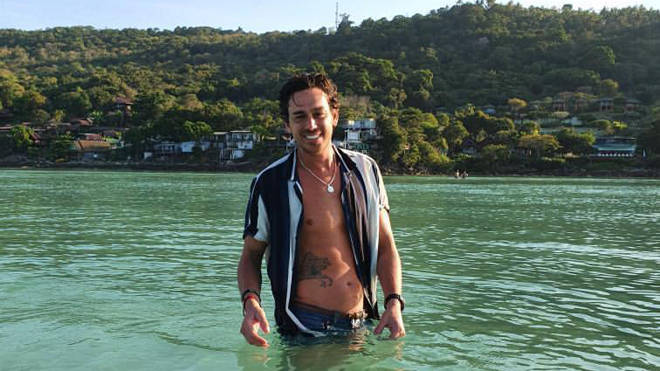 A GoFundme page is raising money to help keep Ashley's parents by his side because his insurance doesn't cover their costs.
His parents expect to be by his side for several weeks. They say they are very worried about the spread of coronavirus spreading as thousands of Chinese tourists come to Bangkok to celebrate Chinese New Year.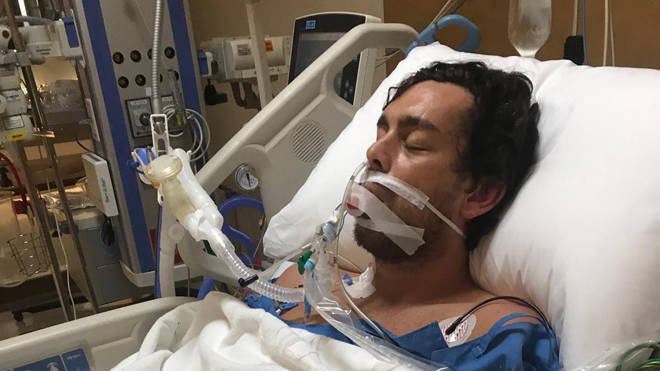 Ashley's father Chris told LBC News: "Ashley became ill originally when he cut his feet on some coral, so he had to get treated for that. Suddenly he was moving onto a different island and he fell ill.
"He was travelling alone in Thailand backpacking. He checked into a local hostel and he progressively got worse so they called an ambulance because they could see he had a fever. He was admitted to hospital straight away in Phuket.
"He'd caught some aggressive type-A influenza, which is similar to bird-flu, but it's not the new virus that's been spreading around China, I know that now for a fact.
Read more: Coronavirus: What is it, how does it spread and how worried should we be?
"There were concerns it was that (coronavirus) because the symptoms are exactly the same. His lungs were coated with some tar-like substance which stopped them from expanding. That's why he had to be flown to Bangkok in a special plane at extra low level.
"The treatment in Bangkok at Bumrungrad International Hospital has been fantastic. They've saved Ashley's life without a shadow of a doubt."
Chris and Julie, Ashley's mum, flew out to Thailand when they realised something was seriously wrong with their son.
"We were in Spain on holiday and Julie was getting messages from Ashley saying that he's not very well and that he's in hospital with a fever," Chris said.
"Suddenly the messages became garbled and we couldn't understand them. He sent us a picture over where he looked absolutely grey, his lips were pale, like white. "
"Julie came out first of all, about two and a half weeks ago. She called me the next foreign day, hysterical, saying Ashley looks like he's going to die. He actually said to her 'I'm dying here, I need to get out of here'.
"It's been absolutely horrendous. Any parent would not want this to happen to their child because it was touch and go whether he was going to live. Touch wood, he's now out of danger but at the time the emotional stress was unbearable.
"Ashley is stable now and has moved out of ICU. He's had an operation on his lungs. His lungs are badly damaged where they've removed the abscesses. He looks like he's lost half of his body weight and it's going to take some time (to recover). He can't walk unassisted, he has to have somebody to hold him up. But at least he's breathing by himself and can talk."
The family have now set up a fundraising page to help cover the costs of Ashley's treatment over in Bangkok, their flights to and from the UK and daily expenses while they stay in Thailand with their son.
Chris said: "Ashley's medical costs are covered on the insurance but there's a limit for a single parent which we've gone over now because we've both flown out and had to book hotels.
"(The money) It helps pay for our flights and daily expenses. I'm actually looking at flying back to the UK this weekend, then back out to Thailand to then relieve Julie, who'll be spending her birthday here which is unfortunate."
"Everyone who's donated, we can't thank you enough. Any extra money will go towards Ashley's rehabilitation - which will take a long time. He's not going to be able to work for a long time. All the go funding will help Ashley rebuild his life because his life is not going to be the same as it was before this disease took hold.
"Ashley was very fit, he enjoyed his sports, his wakeboarding, very outgoing indeed. It's going to be some time before he gets back to that. The doctors have said his lung capacity will never be the same but he is expected to make a full recovery, it'll just be very slow."
Anyone wishing to support Ashley's recovery and his family can donate here