English football fans arrested in Prague after clashes with police
11 October 2019, 19:31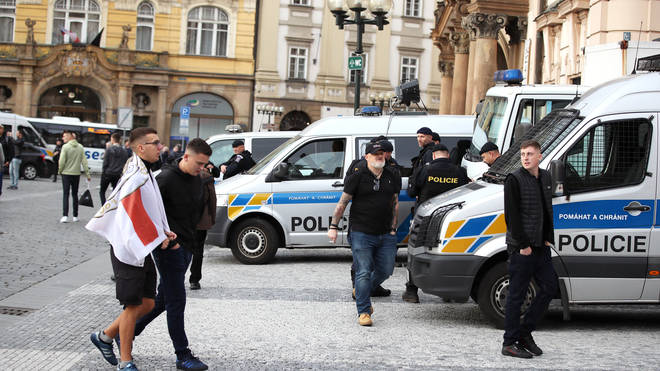 Up to 31 football supporters have been arrested in Prague ahead of England's 2020 European Championship qualifier with the Czech Republic.
Some people were seen throwing bottles in the city's Old Town at armed officers in riot gear.
Videos on social media show the police responded with stun grenades, before rushing in and securing the area.
Czech police said they intervened in the centre of Prague against football hooligans.
Czech Police later used social media to confirm there had been a total of 31 arrests, including 14 "foreigners."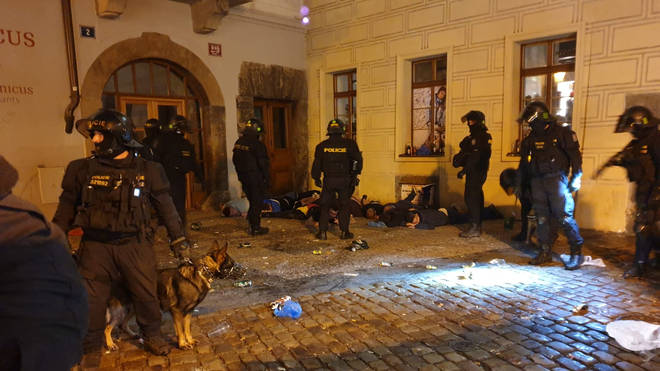 At least one England fan was injured in the clash with Czech police.
He was seen receiving treatment in the back of an ambulance after around ten men were detained.
Earlier a Czech police officer told the MailOnline: "The England fans were very drunk and started throwing bottles at us.
"We fired the stun grenades to ensure they dispersed quickly. We detained 10 England fans and they will now face the Czech legal process."
The others were marched one by one with hands behind their backs into a police van.
Police were unable to confirm how many arrests have been made.
Asked how disappointing the trouble involving England fans was, Gareth Southgate said: "Of course, always disappointing and I think I've always spoken about how we would want everybody to conduct themselves.
"But equally, tonight, I think everybody would expect me to focus on getting my job right and make sure that I get the performance that we need from the team.
"So, I think some of these things are for other people to deal with. I've got to make sure the results and the performances are correct and we didn't do that tonight."