Catholic churches stopping communion wine and holy water over coronavirus fears
3 March 2020, 14:55
Catholic churches could soon ditch communion wine and holy water as coronavirus fears rise across the UK.
Quoting Nicola Sturgeon's prediction yesterday that 80 per cent of the UK population could be infected with coronavirus, Bishop Toal of the Diocese of Motherwell told LBC News: "Churches are one of these places that people gather, and in times like this people would probably wish to gather more in church.
"You wouldn't want them to feel they can't do that, unless it becomes very dangerous to come and say their prayers.
"But on the other hand if it is dangerous, we have to consider that too."
It comes as Health secretary Matt Hancock announced that the number of confirmed cases in the UK has risen to 51.
In a similar vein, Father Michael Doherty of St Hilda's Catholic Church in Stevenage told LBC News: "Everybody should be concerned, this is going to be quite serious.
"We heard this morning that there is the possibility that this could spread all over the country."
Prime Minister Boris Johnson announced this morning that said keeping the public safe was his Government's overriding priority.
The PM said there were "long-established plans by which the police will, obviously, keep the public safe but they will prioritise those things that they have to do".
He added: "And the army is of course always ready to back-fill as and when, but that is under the reasonable worst-case scenario."
But, England's chief medical officer Professor Chris Whitty warned "probably around 1% of people who get this virus might end up dying", but that the death rate varies according to age group.
Father Doherty continued: "We are insisting on people using hand sanitiser at the door of the church, both coming and going.
"Anyone giving out Holy Communion must sanitise their hands before and after this."
He also said that it is likely the church's advise will change imminently to include stopping people shaking hands and removing communion wine from services.
When asked if weddings and funerals could be postponed, he said that this is "possible" and advice on large gatherings "is likely to include this".
"Already people may not be giving the sign of peace or drinking form the chalice as an individual choice," he added.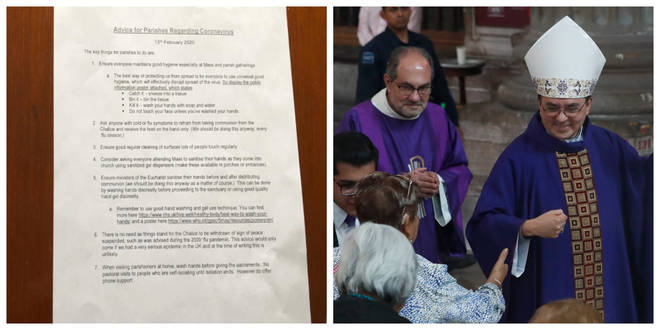 The Bishop's Conference of England and Wales have already released guidelines on coronavirus and how best churches should deal with it.
"At the time of writing there are few cases of Coronavirus (COVID-19) in the UK and no evidence of a person to person transmitted outbreak within England and Wales.
"This may change.
"Efforts in England and Wales are focused on containment of the virus and this advice is written for those circumstances."
Currently, the institution advises good hygiene levels, including sneezing into a tissue, regular hand washing and not touching your face until hands have been washed.
The advice also asks anyone with cold or flu symptoms to "refrain from taking communion from the Chalice" and "receive the host on the hand only".
Everyone entering church should "use sanitised gel dispensers" which should be provided in porches and entrances, and ministers of the Eucharist must wash their hands before distributing communion.
They also warn that in the case of a pandemic, the physical sign of peace, communion and kissing of the cross could be suspended.