Cornwall foodbank has a week's worth of food stolen by thief pretending to be a volunteer
6 September 2019, 11:07
A foodbank in Cornwall has been left struggling to feed local residents after a callous thief stole a week's worth of food by pretending to be a volunteer delivery driver.
Volunteers at a Cornwall foodbank have been left heartbroken after a thief stole a week's worth of food donated by a local supermarket.
The CPR Foodbank have said that they are "disgusted" that someone could steal local donations from their "lovely volunteers and great supporters".
The incident took place outside a Tesco store in Camborne, where bins are in place for food to be donated.
CPR Foodbank coordinator Don Gardner stated: "Our driver went in to pick up the stock. We were trialling a new system, we usually pick up on a Thursday morning but this was the first time we were doing it on a Wednesday night."
"Our driver went to the customer service desk and said he was from the food bank and the employee told him someone had already been and collected it."
Someone had clearly been watching and left with a week's worth of supply."
"It's a massive blow and we are gutted. I'm going to go up to Tesco this morning and see if there's CCTV and get the police involved."
In a Facebook post, the foodbank wrote: "Tonight has been a difficult time. Our service supporting the vulnerable in our towns has been compromised by all our collections tonight."
"The lovey volunteers that constantly collect the provisions from our supporters weekly were disgusted that a person was able to collect the food that was provided by you and are great supporters."
"Our driver had nothing to collect because of a scam!! He is upset, we are upset, BUT CCTV will expose them."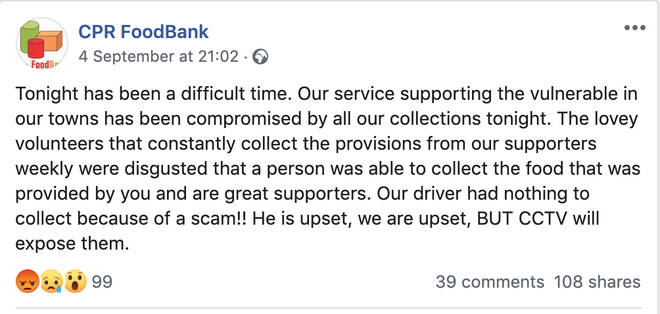 Support has been flooding in on the CPR foodbank Facebook page, with people condemning the thief as "disgusting" and "awful", and offering replacement donations.
The CPR Foodbank has been helping the most vulnerable families in Camborne, Pool and Redruth for a number of years.
Speaking to Global, Don Gardner said it seemed to be "a planned job" which had resulted in them losing "a lot of food".
He said it was a "great shame" that "the public who support us have been taken for a ride".
"I just really hope the person who stole the food actually wants food to eat", he stated.
The foodbank have confirmed that they've now increased security - but are still fighting to make up the loss.
Mr Gardner also said he will be reporting the matter to Devon and Cornwall Police.
There are currently around 2000 foodbanks in the UK. Over the past five years there has been a 73% rise in supplies being distributed.